Debut writers dominate Orange Prize for Fiction list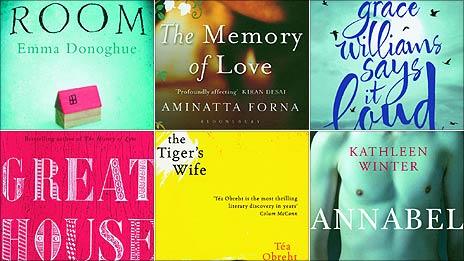 Three first-time novelists, including former Sesame Street scriptwriter Kathleen Winter, have made this year's Orange Prize for Fiction shortlist.
Winter's Annabel joins other debut novels, The Tiger's Wife by Tea Obrecht and Grace Williams Says It Loud by Emma Henderson, on the list.
Emma Donoghue's Room, Aminatta Forna's The Memory of Love and Great House by Nicole Krauss are also contenders.
The £30,000 prize is open to books written in English by women.
Broadcaster Bettany Hughes, chair of the judging panel, said the number of first-time novelists on the list was "an indicator of the rude health of women's writing".
"The verve and scope of storylines pays compliment to the female imagination," she added.
This year's winner will be announced at the Royal Festival Hall in London on 8 June.
Annabel tells the story of a hermaphrodite raised as a boy in a remote part of north-east Canada whose secret threatens to emerge.
Winter, who was born in Gateshead before moving to Canada, began her career writing songs and scripts for Sesame Street.
Donoghue's novel Room - told from the point of view of a five-year-old boy locked in a room with his mother - was shortlisted for last year's Booker Prize.
The Irish-born author now lives in Ontario, Canada.
The UK is represented on the list by Londoners Forna and Henderson.
The Memory of Love tells the tale of a psychologist who leaves England for Sierra Leone, where he strikes up friendships with a young surgeon and an elderly patient.
In Grace Williams Says It Loud, former English teacher Henderson tells of an 11-year-old girl in a mental institution who befriends a boy with epilepsy.
In Great House, New Yorker Krauss writes a series of stories connecting a Chilean poet, an Israeli antiques dealer and a man caring for his dying wife.
The final nominee, The Tiger's Wife, follows a young doctor who, upon hearing of her grandfather's death, goes on a journey inspired by his stories.
This year's judges include BBC Breakfast presenter Susanna Reid and Girl with a Pearl Earring author Tracy Chevalier.
Last year's recipient of the prize was US author Barbara Kingsolver, who won the prize with her sixth novel The Lacuna.
Helen Dunmore, Zadie Smith and Rose Tremain are among other previous winners of the prize, which has been running since 1996.
Related Internet Links
The BBC is not responsible for the content of external sites.