Batman stage show 'not another Spider-Man'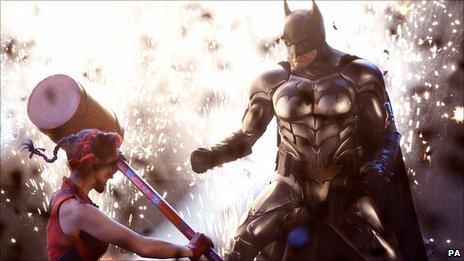 Producers of a new Batman stage show have promised the production will not suffer the same problems as Broadway's troubled Spider-Man musical.
"It's a very different show to ours," said Anthony van Laast, creative director of Batman Live. "The only comparison is they're about heroes."
The show, in which the masked vigilante faces a host of comic-book villains, will tour UK arenas from July.
It will then tour Ireland before going to other parts of Europe and America.
According to van Laast, any technical difficulties can be overcome because the show will not be confined to a theatre.
"We're in an arena," he told the BBC News website. "We can fly wherever we want."
Speaking at the live show's London launch, van Laast said it would rehearse for three weeks at an arena in Nottingham to ensure it is ready for its premiere on 19 July.
Spider-Man: Turn Off the Dark has been plagued with technical problems and injuries to its cast since it began previewing at New York's Foxwoods Theatre in November.
Tuesday's event gave a glimpse of some of Batman Live's set designs, including the 100ft (30.5m) stage that will house scale models of Gotham City and a circus tent.
"This hasn't been done before on an arena scale, so things are going to have to be enormous," said set and props designer Es Devlin, who has designed concert stages for Lady Gaga and Take That.
"Batman is not a superhero - he can't fly so we don't have to pretend he's doing extraordinary things," she continued.
"But there's tons of aerial performance like zip wires and commando lines."
Batman's nemesis The Joker also made an appearance in costume to introduce the other villians that will feature in the show.
They include The Penguin, The Riddler and Catwoman, along with such lesser-known characters as Harley Quinn and Poison Ivy.
Executive producer Nick Grace said he had been working with Warner Brothers and DC Comics for the past three years.
"As well as having super-heroes and super-villiains, we also have illusions, stunts and acrobatic skills, martial arts, gadgets and, of course, the Batmobile," he said.
Formula One car designer Gordon Murray has been brought on board to design a new version of that famous vehicle.
The story - which shows how Dick Grayson became Batman's sidekick Robin - is written by Allan Heinberg, whose credits include episodes of Sex and the City and Grey's Anatomy.
"We want the audience to be emotionally engaged with the characters and feel something," he said. "They have to be invested or it's just a lot of noise and flash.
"It's very difficult to take what's great and magical about the comic book superhero experience and translate it to the stage," Heinberg continued.
"It doesn't matter how much flying you have. If you're not invested in characters you really don't care."
Executive producer Grace said he hoped families and comic book fans alike would attend the two-hour show and was not concerned about children being scared of The Joker.
"I think kids like to be scared," he told the BBC News website. "It's a fantasy and we want kids to come and enjoy it."
Batman Live begins its world arena tour at the MEN arena in Manchester on 19 July.
Related Internet Links
The BBC is not responsible for the content of external sites.