Rio flies to top of UK box office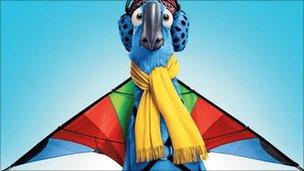 Animated comedy Rio, about a birdnapped parrot's adventures in Brazil, has topped the UK and Ireland box office with first weekend takings of £1.5m.
The 3D film knocked Easter-themed comedy Hop off the top spot, where it remains in the US and Canada.
There were further new entries in the UK and Ireland chart from Indian film Thank You at seven and college thriller The Roommate at nine.
Mars Needs Moms, another 3D animation, entered the chart in 10th place.
In the US, Hop - which features the voice of Russell Brand - held off a challenge from action thriller Hanna, starring Saoirse Ronan and Cate Blanchett.
Brand's remake of Arthur was ranked third in the chart after taking $12.2m (£7.5m) on its opening weekend.
In the film, which opens in the UK on 22 April, the British comedian plays the drunken playboy Dudley Moore portrayed in the 1981 original.
Soul Surfer - based on the true story of surfer Bethany Hamilton, who lost her left arm in a shark attack - made its debut at four.
Fantasy spoof Your Highness, starring Danny McBride and James Franco, opened in sixth place with first weekend takings of $9.4m (£5.8m).
The latter film opens in the UK on Friday, as do horror sequel Scream 4 and fairy-tale adaptation Red Riding Hood.
Related Internet Links
The BBC is not responsible for the content of external sites.