Kate Middleton: A boost for British fashion?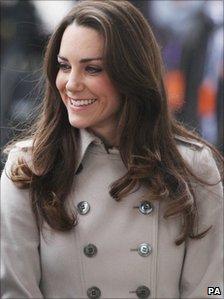 The royal wedding has been one of the most hotly discussed topics since Prince William announced his engagement to Kate Middleton.
Photographs of the prince's bride-to-be - and fellow former University of St Andrews student - have adorned every British newspaper on a regular basis since the engagement was announced.
Everything from her hairstyle to her weight has come under scrutiny.
But like Diana, Princess of Wales, the clothes she has been pictured in have become the main talking point.
With just under three weeks to go until the big day, the designer of Ms Middleton's dress has yet to be unveiled.
Judging by the way copies of her £399 Issa engagement dress were snapped up, it looks like the future princess could already be on her way to becoming a huge fashion trend-setter.
"Whenever any important figure wears fashion it's going to influence people all over the world, and obviously this is her moment, so anything that she chooses is going to be of huge interest," says Anna Wintour, editor-in-chief of American Vogue.
"Obviously Kate Middleton is going to be put under a microscope in terms of the press coverage, and how important she'll be is really her call," she adds.
Ms Middleton's style has been described as "classic, stylish and conservative", and most high street stores are scrambling to sell copies of Ms Middleton's key outfits.
But Whistles, a chain that Ms Middleton has frequently shopped at, is not following the future Queen's fashion sense quite as closely as others.
Speaking to The Telegraph last month, chief executive Jane Shepherdson said: "She's very pretty, an English rose, but she's not necessarily who we're aiming at."
Despite Prince Williams' fiancee choosing to wear a Whistles embroidered blouse in her official engagement portrait, Ms Shepherdson insists they have not seen a spike in sales.
"I don't think Kate's made a difference to sales. Maybe a few hundred pounds. A pretty dress is a pretty dress, it's going to sell, regardless."
Elsewhere famous females are making a sartorial impact.
Last October it was reported that Michelle Obama boosted the economic value of the brands she chooses to wear by $2.7bn (£1.7bn).
The First Lady helped propel young designer Jason Wu into the limelight after wearing a dress of his to an official engagement in 2009.
US store J Crews also reported share prices had soared since Ms Obama admitted to being a fan during an interview.
Harold Tillman, chairman of the British Fashion Council, believes that with the world watching Ms Middleton, she is likely to overshadow everyone.
"I don't think we've got anybody else in the world that actually has that stature.
And just like Ms Obama, the 29-year-old will undoubtedly "make careers" if she allows unknown designers to dress her.
"I'm sure that so many designers will want to dress her. and I hope that more than one gets a chance to do so," Mr Tillman says.
"She will have a huge impact on the British fashion industry. I'm confident she will support it - not deliberately - but purely through her own taste."
Members of the Royal family setting trends goes back centuries, says Dr Joanna Marschner, Senior Curator at Historic Royal Palaces.
Queen Victoria made tartan globally popular, and children were dressed in sailor outfits for years after her eldest son was seen wearing one.
"Every so often you will find a person in the family come along, who has it," says Dr Marschner.
"I don't know what it is - is it charisma, an eye, a kind of confidence that particularly attracts all of us and becomes that figure that we all aspire to be?"
Ms Wintour insists with fashion being so wide-ranging nowadays, there is a trend-setter for everyone.
"I think there's room for Kate Middleton and Lady Gaga," she says.
"I think that the days are long gone where everyone wanted to dress the same. It's much more about individual spirit and individual statement and I think that is part of the enjoyment of fashion today that is it so eclectic."
Whatever dress Ms Middleton has chosen to walk down the aisle in on her big day, the style will be the biggest fashion watermark for weddings this season.
But with such close scrutiny for years to come, Ms Wintour says that the future consort is sure to make "some very wise choices".