Sally Field to star in Abraham Lincoln film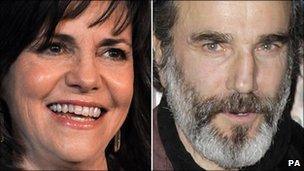 Actress Sally Field is to star opposite fellow two-time Oscar winner Daniel Day-Lewis in Steven Spielberg's film about Abraham Lincoln.
Field, 64, who won best actress Oscars for Norma Rae and Places in the Heart, will play the iconic US president's wife, Mary Todd Lincoln.
Spielberg said Field would bring "fragility and complexity" to the part.
Out in 2012, the film is based Team of Rivals: The Political Genius of Abraham Lincoln by Doris Kearns Goodwin.
Field can currently be seen opposite Calista Flockhart in TV series Brothers and Sisters, for which she won an Emmy in 2007.
In 1979's Norma Rae, Field played the title role in the tale of a Southern mill worker's fight to unionise her workplace.
1984 drama Places in the Heart saw her play a Texas widow desperate to keep her cotton farm running during the Great Depression.
Day-Lewis, 53, cast as Lincoln after Liam Neeson dropped out, won best actor Oscars for My Left Foot in 1990 and for There Will Be Blood in 2008.
Meanwhile, another Abraham Lincoln-related film - The Conspirator, directed by Robert Redford - is out in the US on Friday.
James McAvoy and Robin Wright star in the film which tells of Mary Surratt, a woman accused of playing a part in Lincoln's 1865 assassination.
Related Internet Links
The BBC is not responsible for the content of external sites.