New Pirates of the Caribbean to be screened at Cannes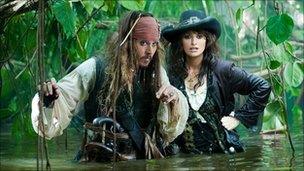 Pirates of the Caribbean: On Stranger Tides is to be shown out of competition at this year's Cannes Film Festival, organisers have announced.
Johnny Depp's Captain Jack Sparrow is joined by Penelope Cruz in the fourth instalment of the hugely successful Disney franchise.
Jodie Foster film and Scottish director Lynne Ramsey's film of best-selling book We Need to Talk About Kevin will also be screened.
The festival runs from 11 to 22 May.
The previous Pirates movie, At World's End, earned more than $960 million (£590m) worldwide in 2007.
The new film sees Depp's Jack Sparrow on the trail of the fountain of youth and sees him come up against the fearsome pirate Blackbeard, played by British actor Ian McShane.
The Beaver, which will also be shown out of competition, reunites Mel Gibson with his Maverick co-star Jodie Foster.
The latter both directs and appears in its story of a depressed toy company executive who uses a beaver hand puppet to communicate with his family.
Terence Malick's long-awaited The Tree of Life, starring Brad Pitt, is also to be shown during the festival as part of the main competition line-up.
So will Spanish director Pedro Almodovar's latest film The Skin I Live In (La Piel Que Habito), starring Antonio Banderas.
Cannes favourite Lars Von Trier, who won the prestigious Palme d'Or for Dancer in the Dark in 2000, will return to the event with his new film Melancholia.
Kirsten Dunst, Charlotte Gainsbourg and Kiefer Sutherland feature in this tale of two sisters who find their relationship challenged as a nearby planet threatens to collide with Earth.
Sean Penn plays an ageing rock star in director Paolo Sorrentino's English language debut This Must Be the Place.
In all there are 19 titles competing for the Palme d'Or, with another 19 films showing in the Un Certain Regard sidebar.
This year's festival will begin on 11 May with a screening of Woody Allen's latest film, Midnight in Paris.
Italian director Bernardo Bertolucci is to receive an honorary Palme d'Or on the opening night, while actor Robert De Niro will chair this year's main competition jury.
Related Internet Links
The BBC is not responsible for the content of external sites.