BBC Proms 2011: Tim Minchin concert among highlights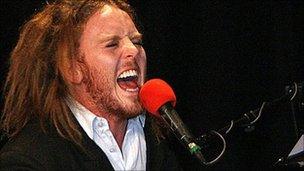 A comedy concert hosted by Tim Minchin, an audience request night and Liszt bicentenary celebrations are among the highlights of this year's BBC Proms.
There will also be a concerto for turntables and orchestra as well as Hollywood film music concerts.
A series of choral Sundays will kick off at the Royal Albert Hall on 17 July with a symphony featuring a Proms record-breaking 1,000-plus performers.
This year's Proms will run from 15 July to 10 September.
Organisers said Liszt piano concertos on the first and last nights of the Proms would serve as "dazzling bookends to the season".
Benjamin Grosvenor will perform on the opening night with Lang Lang playing on the final evening, while a late night prom with Marc-Andre Hamelin will also celebrate Liszt.
Other works by the Hungarian composer to be performed include his Dante and Faust Symphonies and his orchestral Funeral Odes, never before heard at the Proms.
On Friday 2 September, the Budapest Festival Orchestra, conducted by Ivan Fischer, will have "a huge pile of music" on hand to take requests from the audience.
The mass choral performance on 17 July, of Havergal Brian symphony The Gothic, will feature two orchestras and 10 choirs, including Huddersfield Choral Society and the Southend Boys and Girls Choirs.
Mr Wright joked that the piece, dubbed "the largest and longest symphony ever written", would sell out quickly.
"It will be the first concert to sell out because once you put the performers in there, there is hardly any room for the audience," he added.
On Friday 12 August, the BBC Concert Orchestra will play music from films including Harry Potter, Star Wars and Psycho.
There will also be a tribute to Bond composer John Barry and a performance by the Spaghetti Western Orchestra.
Meanwhile, Concerto For Turntables, written by Gabriel Prokofiev - grandson of Sergei Prokofiev - will be performed by DJ Switch with the National Youth Orchestra of Great Britain.
Other Proms highlights among the 90 concerts - of which 74 will be in the Royal Albert Hall - include a Nigel Kennedy late night solo Bach recital and the return of Venezuelan youth ensemble the Simon Bolivar Symphony Orchestra, conducted by Gustavo Dudamel.
Performances will be broadcast on Radio 3 as well as on BBC Two and BBC Four throughout the season.