Walt Whitman letters discovered in US National Archives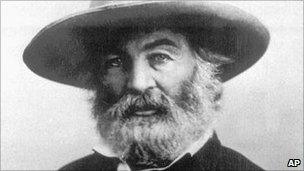 Previously unseen letters written by poet Walt Whitman have been discovered at the National Archives in Washington, it has been announced.
Literature professor Kenneth Price said the 3,000 letters were written when he worked as a government clerk.
The handwritten correspondence includes speeches he wrote for the US attorney general after the American civil war.
Whitman's Leaves Of Grass collection of poetry was deemed controversial for its time for its overt sexuality.
Yet Whitman is now regarded as one of the most influential of all American writers.
"The documents are in his handwriting so they passed through his mind, they passed through his fingertips," Mr Price told the Guardian newspaper.
"They bear somebody else's signature but it's in Whitman's handwriting."
Whitman, who died aged 72 in 1892, worked mainly as a scribe and copyist during his government job between 1865 and 1874.