What next in News of the World phone-hacking scandal?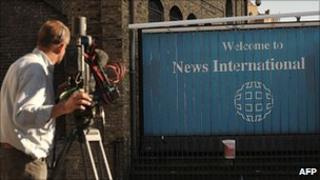 This round-up of today's main media stories reports on the latest developments in the phone-hacking saga.
The police investigation into the News of the World took a new turn on Thursday with the arrest of a senior reporter whose name had not previously been connected with the phone-hacking scandal. James Weatherup, 55, is the third current or former News of the World journalist to be arrested. The Guardian says executives immediately cleared his desk, watched by a legal team.
A hearing at the High Court today will consider the next steps in handling civil cases relating to the hacking allegations. So far, 24 cases involving breach of privacy have come before the court. The BBC's legal correspondent Clive Coleman says more details may emerge about which victims will accept compensation from News International, who will fight on, and how many more are bringing civil claims.
On its front page, the Daily Mail says the BBC stands accused of being "a cheerleader for assisted suicide" after filming a man killing himself at the Dignitas clinic for a BBC2 documentary. Sir Terry Pratchett, a supporter of euthanasia, presents the programme which follows a man with motor neuron disease as he travels to the Swiss clinic. The Mail says screening a suicide victim's death is a first for terrestrial television. In 2008, as Sky News reported at the time, a documentary on Sky Real Lives showed Craig Ewert taking a lethal dose of drugs at the Dignitas clinic in Switzerland.
The BBC's coverage of David Cameron's immigration speech was "abysmal", according to Sir Andrew Green, chairman of MigrationWatch UK. In a full-page article in the Daily Mail, he says a hostile interview on Radio 4's Today with Immigration Minister Damian Green "bore so little relationship to the Prime Minister's speech that one wondered whether the presenter had even read it".
Yet another Premier League footballer has won a gagging order to suppress details of his "sordid" sex life, says the Daily Mail. The unnamed player - described as a "family man" - allegedly cheated on his wife in a six-month fling with a topless model. It also reports on the case of a leading actor who has won a similar gagging order.
The Independent says the BBC Proms will highlight the fledgling talent of a 19-year-old debutant pianist, and the youngest last night conductor in more than a century. Edward Gardner, 36, music director of the English National Opera, is the youngest last night conductor since 1904, when Sir Henry Wood commanded the baton, aged 36.
The Times has an exclusive article by Barack Obama, David Cameron and Nicolas Sarkozy. They commit themselves to supporting military action in Libya until Colonel Gaddafi is gone, as featured in the BBC's newspapers review.