The unlikely stories of Jonathan Jeremiah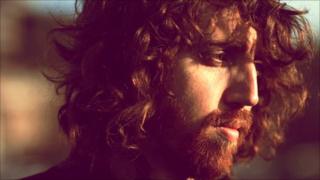 Singer-songwriter Jonathan Jeremiah talks about how he fled to America to write his debut album A Solitary Man and how things didn't quite go according to plan.
If you speak to London-born crooner Jonathan Jeremiah for too long, it starts to feel like you're stuck in an episode of Would I Lie To You?
So which of these stories is fact, and which is fiction?
Jonathan started writing songs in his attic, after stealing a guitar "covered with ET stickers" from his school, aged 10.
He got James Brown's backing band to appear on his debut album by bribing them with fish fingers.
He wrote his entire debut album travelling across America on a Greyhound bus.
It sounds absolutely ludicrous, but they're all true. Or, at least, he says they are.
And the shaggy-haired singer is so earnest and quietly-spoken it would seem cruel to accuse him of making it all up.
'Skinny guy'
Jeremiah was born to an Anglo-Indian father and an Irish Catholic mother, and raised in the shadow of Wembley Arena.
In his teens, he worked as a security guard at the esteemed concert venue ("it was my job to lock up. I had the keys and I had the power") but he always felt out of place in his hometown.
"I had an idea that California would be a lot more fitting for me and the music I was in to," he says.
"So I went there thinking I'd meet Joni Mitchell and Carole King - but then I realised that everyone was into Snoop Dogg and Rage Against The Machine."
Disillusioned with Los Angeles, he decided to travel across the States, sampling American life through the tinted windows of a Greyhound coach.
"I was fairly poor, but I could afford a Greyhound pass," he says.
"It was valid for most of the way, I'd admit that much. The rest I was blagging."
The trip was a formative experience. The 30-year-old's album emanates from those dusty highways, burger kitchens and gas station pit stops, the songs populated by characters he met along the way.
"When you're the skinny guy sitting in the corner, everybody wants to sit beside you because you're not taking up too much room. So I'd always have conversations going on, all the time.
"I found lots of interesting characters, and I stopped off in Colorado and Chicago. Mum would phone up and say: 'You've got to meet your auntie Alice out in California,' so you'd meet loads of people.
"It's an exciting experience, travelling, and there's always something you can take from it."
But the longer Jeremiah spent in America, the more he realised he'd have to go home if he wanted to commit his songs to tape.
Night bus
Back in London, he worked night shifts to pay for recording sessions, held "in a shed" in Dollis Hill, schooling himself in production techniques along the way.
The resulting album is elegant and soulful. A luscious artefact of 1970s songwriting class. It is not by accident that Jeremiah was chosen to support easy-listening sensation Rumer on tour last year.
Throughout, orchestral flourishes and thrusting brass provide the perfect foil to Jeremiah's deep, sonorous tenor.
"Ever since my Adam's Apple developed, I realised I couldn't sing like Jeff Buckley," he says.
"All of my friends were into that kind of stuff - these stratospheric vocals. But my dad was into crooners like Neil Diamond, so it felt comfortable for me to sing as naturally as I could. Yes, it's definitely a different style of vocals, but it's the way I sing."
The album's cast-list is impressive, too, with guest appearances from The Roots' drummer Questlove and James Brown's brass section. And apparently the fish finger story is true.
"I used to go to the Jazz Cafe," says Jeremiah, "because that's where all the best American jazz and soul players would always go. And I'd speak to them after the show.
"I'd just say, 'I'm recording not far from here, in a studio just up the road… if you have a moment, just come along. I can pay you in fish fingers'.
"It sounds like a strange chat-up technique but, believe it or not, lots of the old pros are always up for playing."
With a certain circularity, Jeremiah would listen to his works-in-progress on the late bus back to his house in Wembley, shutting out the drunks with his headphones.
"That's why I wanted to make an album that was beautiful," he says. "Travelling on the night bus, I couldn't handle anything that was corrosive on my ear drums.
"I couldn't make anything that sounded grim. That journey was grim enough in itself."
A Solitary Man is out now on Island Records