Do US daytime soap operas have a future?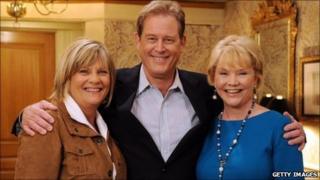 Fans have reacted angrily at the axing of two long-running daytime soap operas.
All My Children and One Life to Live have been mainstays of ABC's daytime schedule for more than 40 years.
But, according to the network, viewers are looking for different types of programming.
One major advertiser has reacted to the news by pulling its commercials from the channel.
But the apparent outrage is unlikely to result in a change in heart by ABC, which will air only one daytime drama, General Hospital, in the future.
"It's a combination of shifting tastes and cost," says Kim Masters, editor-at-large with The Hollywood Reporter and host of The Business on KCRW radio.
"I think we might be seeing the end of an era. Ratings for these shows are dropping, especially amongst younger female viewers - and making reality shows is cheaper."
The escalating cost of producing drama, which involves paying actors, writers and scores of other workers behind the scenes, has long sounded the death knell for daytime soaps.
Coupled with the fact that audiences appear to me more enthralled by the dramas that play out on reality shows, one of television's original formats is left gasping for its last breath.
"It sends out a warning sign that you can never take the audience for granted," says Mal Young, who has produced some of the UK's most successful soaps, including Brookside and EastEnders.  
"They can exist forever as long as they're good and relevant to the audience."
Baby boom
Robert Thompson, professor of television and popular culture at Syracuse University, says he thinks the situation is "pretty serious".
He adds: "I wouldn't be a bit surprised if within five years there are none of these things left."
Soap operas were invented by America. They started on radio in the 1930s and moved to television after World War II.
In the early days they played to a very specific demographic - housewives and mothers who stayed at home to raise their baby boom children.
It was a captive audience which was particularly attractive to the manufacturers of soap, who sponsored the then hugely popular shows.
In those days there was no competition. But now, with the advent of satellite, cable and the internet, viewers have a bewildering array of choice.
"Soaps used to do something that you couldn't get elsewhere and that was a story that went on for ever," says Professor Thompson.
But audiences, perhaps with shorter attention spans and a yearning for a different style of drama, are turning to reality formats that create their own cliffhangers.
As a business model, Professor Thompson argues that daytime soaps have little to offer the major networks.
"They have virtually no value once you have played them the first time, but a sitcom can be worth a fortune in re-runs."
Real-life drama
While US daytime soaps look certain to fade into history, industry professionals are more upbeat about the future of episodic dramas at other times of the day, notably primetime.
"The future of the daytime-type soap opera is not in the daytime," argues Professor Thompson.
"That ship has sailed and I think they are going to be gone pretty soon.
"However, I think there is a possibility, especially in the new economics of television that the telenovela model, the five days a week, cheaper budget kind of thing could at some time be tried in this country and work."
The telenovela format, which is popular in Latin America, is one in which TV dramas run daily, over a long period, but have a distinct ending.
The traditional British soap opera is also being hailed as a possible saviour of the format in the US.
Mal Young, who is currently in Los Angeles developing a soap opera for primetime US TV, says Americans are yearning for more dramas about real life.
"One of the shows that I'm developing out here is to tap into that," he says.
"A British-style soap opera, with real people, real issues, working class blue collar families and not the Dallas and Dynastys and the Desperate Housewives."
Mr Young believes US viewers would buy into a Coronation Street or EastEnders set in small town America.
"I think they're ready to go on story-telling journeys in drama and see themselves."
"We haven't seen the demise of the soaps. We've seen the demise of a certain type of them but as a machine, as a business, a cost model, they're so effective as long as they're done with a great heart and they're relevant to the audience."