Philip Larkin's haunts join tourist trail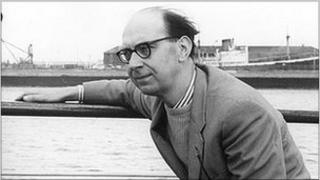 Poet Philip Larkin's favourite pubs, his homes and the hospital where he died have been included on a new tourist trail in his home city of Hull.
Locations where the writer spent time and found inspiration for his poetry have been commemorated with plaques and included on a map for Larkin lovers.
They include the Marks and Spencer's shop and Hull Royal Infirmary, both of which were immortalised in his poems.
Fans can also visit the university library where he worked and his grave.
The launch of the trail is the culmination of a series of events that have marked the 25th anniversary of his death.
Larkin's surroundings often found their way into his work, and the trail will help enthusiasts seeking traces of his "terminate and fishy-smelling pastoral of ships up streets, the slave museum, tattoo-shops, consulates, grim head-scarfed wives".
The city centre section begins with the setting for his poem Friday Night in the Royal Station Hotel before moving to the station itself, where he arrived from the Midlands in 1955 to find an "end-of-the-line sense of freedom".
It then visits the City Hall, where he would watch jazz concerts, before stopping at the pubs where he gave talks to the Hull Jazz Record Society.
'Fascinated'
Larkin wrote the poem The Large Cool Store, "selling cheap clothes set out in simple sizes plainly", about Marks and Spencer on Whitefriargate.
The trail's project manager Libby Goodacre said: "His secretaries and the ladies who worked at the university with him used to go down into town, and he was fascinated by the fact that they used to come back with these special things.
"He went down and took a look and wrote about that."
The opening of the trail follows a six-month celebration of Larkin's life and work.
"It was always the wish of the Larkin Society and the Larkin 25 programme to leave a legacy project behind," Ms Goodacre said.
Another section of the trail travels to the suburbs of Hull, where Larkin worked and lived, and where he died in 1985 at the Nuffield Hospital, which is now a dental centre.
Maps of the trail are available online or from tourist information centres.