X Factor final performances 'not too raunchy'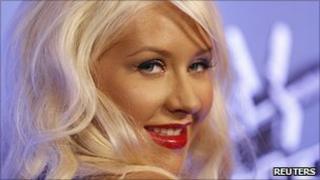 The X Factor has escaped censure by media regulator Ofcom over raunchy performances by Rihanna and Christina Aguilera during last year's final.
Ofcom said it received 2,868 complaints that the pre-watershed performances were "too sexually explicit".
But it ruled that although Rihanna's routine "featured some gentle thrusting", it was "suitably limited".
It added Aguilera's performance was justified as she was singing a song from her film, Burlesque.
Ofcom noted that Rihanna - who performed her hit What's My Name - was largely shot at a wide angle to show all of the dancers on the stage and was done so from a distance.
It added although the dance routine had some "mildly sexual overtones", the camera panned quickly and continuously throughout the performance, resulting in the shots of the individual dance movements being very brief.
"Ofcom was therefore of the view that, taken as a whole, the performance by Rihanna was presented in a style which would not have exceeded the likely expectations of the audience," the regulator said.
'Editorially justified'
For Aguilera, Ofcom said the performance taken as a whole was sexualised to some extent due to the nature of the dancers' revealing costumes.
As it reflected the burlesque theme and storyline of the singer's film Burlesque - which she was promoting - it was editorially justifiied, the adjudication added.
Ofcom said approximately 2,000 of the 2,868 complaints about the programme were received following coverage about the performances in a daily national newspaper reporting on concerns the show was too explicit for a family programme.
After including a number of still images of the performances that were "significantly more graphic" than the material that had been broadcast in the programme, Ofcom concluded readers would have been left with the impression the programme was more graphic than was broadcast.
Elsewhere, Ofcom found 4Music and MTV in breach of its code for protecting children from unsuitable material after they both broadcast the music video for Flo Rida's Turn Around before the watershed.
Ofcom said it received three complaints from 4Music views and two complaints from MTV viewers about the scheduling of the video which featured female dancers in bikinis "repeatedly shaking and playfully slapping their buttocks".
"The cumulative effect of the repeated close up images of the female dancers' buttocks, together with some of the provocative dancing and actions in the video, resulted in the video's imagery conveying a highly sexualised theme," Ofcom said.
It concluded the video was unsuitable for children and as it was broadcast at various times of the day, and sufficient measures were not in place to prevent children from viewing it.