Ed Miliband asks for an inquiry into NOTW phone hacking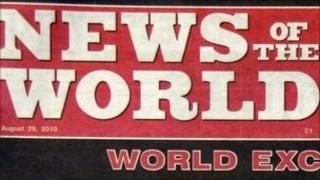 Among my pick of Wednesday's media industry stories is a look at the fresh call for an inquiry into the phone-hacking affair.
The Guardian says Ed Miliband has become the first political leader to call for an independent review of newspaper regulation and practices after the admission by News International that it hacked into the phones of celebrities and politicians. Mr Miliband told the paper that he thinks there "does need to be a review after the police inquiries have been completed and any criminal cases that flow from it". He added that he doesn't think the Press Complaints Commission has "covered itself in glory".
The Daily Mail says the secrecy laws that allow celebrities to hide their involvement in sex scandals took a major leap forward yesterday in a draconian decision by appeal judges. They ruled that a well-known married man working in the entertainment industry who had an affair with a colleague cannot be named - to protect his children from playground bullying.
The BBC links to the court's judgement which overturns a High Court ruling that would have allowed the News of the World to reveal the identity of the man the injunction is referring to.
The BBC Trust has ruled that a Panorama documentary about the Israeli boarding of the Mavi Marmara was "accurate and impartial" overall, but did breach editorial guidelines, says the Guardian. Alison Hastings, chair of the BBC Trust's editorial standards committee, apologised for three breaches of accuracy and impartiality - out of 51 points raised in complaints - but commended the corporation for "an original, insightful and well-researched piece of journalism".
The royal wedding will be broadcast live on YouTube after Prince William and Kate Middleton insisted they wanted their marriage to be the world's most interactive public event, reports the Daily Telegraph.
The Evening Standard says Buckingham Palace is caught in a furious row with American broadcasters over plans to plunge the building into darkness at the climax of their royal wedding coverage. Lights illuminating the front facade will be switched off at 12.30am, as millions of Americans sit down to watch prime-time evening bulletins presented from London. CBS, NBC and ABC have each paid up to £50,000 to build temporary studios to cover the marriage.
The Daily Mail has overtaken the Huffington Post to become the second most popular news website in the world in March, according to new figures from metrics firm comScore. The New York Times tops the list. The Guardian says the Daily Mail has grown exponentially in the past three years, in part due to its showbiz-laden front page, but also because of its focus on US news.
Britain's decision to send military officials to Libya to help advise the rebels fighting Col Gaddafi has put the conflict back on the front pages, as featured in the BBC newspapers review - with links to front pages.