Bewitched creator Sol Saks dies aged 100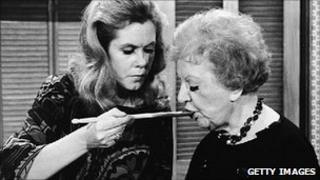 Comedy writer Sol Saks, who created the 1960s US sitcom Bewitched, has died aged 100.
He died on Saturday of respiratory failure as a result of pneumonia at a Los Angeles hospital, his wife told the Los Angeles Times.
Starring Elizabeth Montgomery as a witch who marries a mortal man, Bewitched ran from 1964 to 1972.
Yet while he wrote the original pilot script, Saks never wrote another episode.
"He just sat back and took in the royalties," said Paul Wayne, a longtime friend and writer who worked on the show.
Saks said his inspiration came from two films: 1942's I Married a Witch, starring Fredric March and Veronica Lake, and 1958's Bell Book and Candle, starring James Stewart and Kim Novak.
"He was pretty honest about the fact it wasn't a particularly original idea," Wayne told the Los Angeles Times.
Before Bewitched, Saks wrote for such US radio comedies and TV series as My Favorite Husband, Mr Adams and Eve and I Married Joan.
He also wrote the screenplay for Cary Grant's last film, the 1966 comedy Walk Don't Run.