Nazi-looted Klimt 'to be returned to owner's grandson'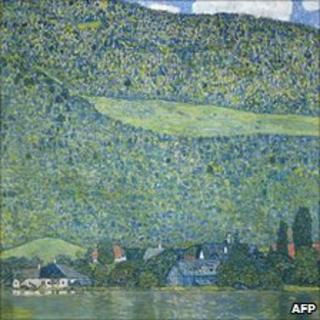 An Austrian museum is set to return a Gustav Klimt painting to the grandson of its original owner, a victim of the Nazis during World War II.
Litzlberg on the Attersee is thought to be worth up to 30m euros (£26m), experts from the Museum of Modern Arts in Saltburg said.
It is believed the 1915 work was seized from Amalie Redlich after she was deported in 1941 and killed.
Georges Jorisch, an 83-year-old living in Montreal, is Redlich's only heir.
Under a 1998 restitution law, Austria has returned some 10,000 paintings confiscated by the Nazis to the descendants of their former owners.
The local assembly of Salzburg province has still to approve the restitution yet the handover is expected to go ahead.
"The conditions for a return of the painting to Amalie Redlich's rightful heirs have been fulfilled," said Salzburg deputy governor Wilfried Haslauer.
"Therefore I will recommend that the Salzburg government return the artwork to Georges Jorisch."