Funny Women organisers sorry over competition fee row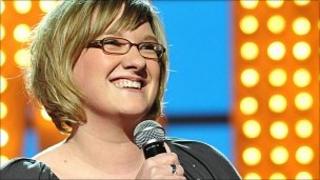 Organisers of an annual female comedy competition have apologised after an online row with comics over charging a £15 entrance fee.
Sarah Millican, Shappi Khorsandi and Jo Caulfield were among those who took to Twitter criticising Funny Women.
Responding in a blog post, Funny Women accused the comedians of "a knee jerk reaction" to the decision.
Organiser Lynne Parker has since apologised, saying she had been "hugely hurt" by the comments.
In announcing the launch of the competition on Tuesday, organisers said the registration fee would go towards its running costs.
Speaking to the BBC News website on Thursday, Ms Parker said she was now "reviewing the situation and taking some of the more positive responses on board".
The organiser said the competition - which is now in its ninth year - lost its sponsorship two years ago.
Twitter row
Ms Parker said the registration fee was to be used to fund two part-time staff and promotion.
But comedians criticised the registration fee as no other comedy competition currently charges for entry.
Millican wrote: "Advice to any budding female comedians, no need to pay to play... just be funny, write loads and work very hard."
Caulfield, who was previously hired to be the face of the Funny Women Awards for three years, wrote: "@funnywomen have finally proved it is harder for women in comedy because men aren't charged £15. Please reconsider this ridiculous idea."
"As the website face of FunnyWomen I advise all new comics not to enter my competition," she added.
On Wednesday, an anonymous blog post on Funny Women's website responded: "Female comics are constantly battling the stigma that they are nothing but bitchy and irrational bodies.
"It would appear that there are still a number of female comics hell-bent on perpetuating this debilitating stereotype."
Male comedians also commented on the fee, with Richard Herring saying: "All comedians, new and old, male and female, good and crap (especially crap) should oppose pay to play."
Australian comedian Tim Minchin said: "I think #funnywomen outrage is valid. But amusing to a muso: songwriting/band comps always charge to enter, often a lot."
An apology was posted on the Funny Women blog on Thursday with Ms Parker saying the earlier post was because she "was so shocked at the responses" to the decision.
"I am a great personal fan of some of my worst critics and just so sorry that this has all been taken out of context. I really hope that we can all get past this and move on," the post added.
Previous winners of the Funny Women competition include CBBC presenter Miss London in 2009 and Stand Up for the Week star Andi Osho, who won in 2007.