V&A museum appoints German academic as its new director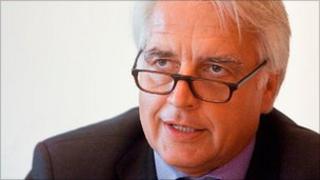 German academic and curator Professor Martin Roth has been named as the new director of the Victoria and Albert museum in central London.
Prof Roth, currently director general of the Dresden State Art Collections, will take up his new position on 1 September.
The 56-year-old said he was "honoured" to be the new director of "the world's leading museum of art and design".
He replaces Sir Mark Jones, who has led the V&A since 2001.
Prof Roth was appointed by the museum's board of trustees and Prime Minister David Cameron.
Paul Ruddock, chairman of the board of V&A Trustees, said he had "a strong record of leading and managing complex arts organisations."
Culture Minister Ed Vaizey echoed his sentiments, saying he was confident that Roth's "wealth of experience, knowledge and commitment" would be "a real asset".
Prof Roth was curator at the German Historical Museum in Berlin and director of the German Hygiene-Museum in Dresden before taking up his current role in 2001.
Sir Mark will leave the museum in June to become Master of St Cross College, Oxford.