Mel Gibson plays down Hangover 'snub'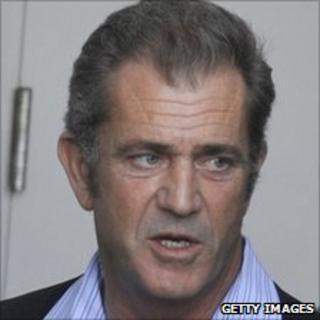 Actor Mel Gibson has played down the loss of a cameo role in the sequel to comedy hit The Hangover, saying he was not "greatly offended" to be dropped.
"It seemed like a good idea at the time and it went south," he told US website Deadline. "You have to let that go."
Director Todd Phillips had planned to cast Gibson as a tattoo artist but reconsidered because he did not have his cast and crew's "full support".
Gibson, 55, is set to return to the big screen in comedy drama The Beaver.
"I like Todd. How could you not like Todd?" said the actor of The Hangover director. "He's smart and he's gifted and so are the other people in the film.
"You just move on and go okay. I'm not greatly offended by it."
Last month the Braveheart star pleaded no contest to a misdemeanour battery charge after a fight with his then-girlfriend Oksana Grigorieva in 2010.
Recordings of Gibson purportedly arguing with Ms Grigorieva were posted on the internet last year.
In the interview, the actor and director claimed the tapes had been edited and had been part of "an irrationally heated discussion at the height of a breakdown".
"It's one terribly, awful moment in time, said to one person, in the span of one day," he is quoted as saying, adding that his widely reported comments did not "represent what I truly believe".
"The whole experience has been most unfortunate," he continued, adding that he "could easily not act again" in future.
Directed by Gibson's one-time co-star Jodie Foster, The Beaver is to be screened out of competition at the Cannes Film Festival next month.
The film, about a troubled family man who communicates with people by using a beaver hand puppet, will be released in the UK on 17 June.