Grease duet tops film song chart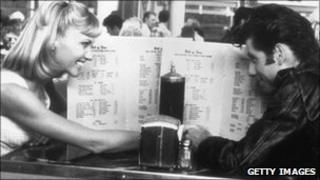 Olivia Newton-John and John Travolta duet You're The One That I Want, from 1978 film Grease, is the best-selling movie track in the UK, research shows.
The figures, compiled for BBC Radio 2, show that Love Is All Around, covered by Wet Wet Wet is second in the chart of songs recorded especially for films.
The track was recorded for Four Weddings and a Funeral.
Stevie Wonder's I Just Called To Say I Love You, from the film The Woman in Red, was third.
In fourth place was Bryan Adams' Everything I Do (I Do It For You) from Robin Hood: Prince of Thieves.
Adams' ballad was top of the UK charts for 16 weeks in 1991 - one week than longer than the stint enjoyed by Wet Wet Wet's cover of The Troggs song Love Is All Around in 1994.
Another Grease song, Summer Nights, was fifth in the chart, compiled by the Official Charts Company.
The top 30 biggest sale songs from the films will be counted down by Tony Blackburn on Radio 2 from 1600 BST on Monday.