Grammys producer John Cossette dies aged 54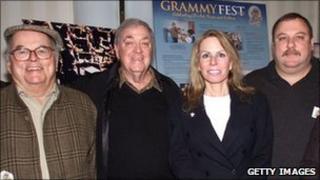 John Cossette, a longtime executive producer of the prestigious Grammy awards, has died aged 54.
Cossette, son of the show's founding producer Pierre, worked on the broadcast for more than 20 years.
He also worked on the Latin Grammys, the BET awards and the musical Million Dollar Quartet, now running in London and on Broadway.
In a statement, his widow Rita said the family appreciated "everyone's love and support".
Million Dollar Quartet, which dramatises a famous 1956 recording session attended by Elvis Presley, Johnny Cash and Jerry Lee Lewis, opened in the West End in February.
On its website, Cossette is described as "a major force in music, television [and] live events" who was "destined for the theatre".
"Rumour has it, in his early days managing an Off-Broadway theatre, he learned that shutting off the air conditioning ten minutes before the interval sold more drinks," his online biography continues.
Cossette's other credits include the grand re-opening of New York's Radio City Music Hall in 1999.
Neil Portnow, president of the Recording Academy, said Cossette's "warmth, easygoing nature, passion for music and the arts and tireless dedication" were "unmatched".
"We were incredibly lucky to have benefited from John's creative guidance and leadership but, more importantly, to have called him our friend."
Presented annually by the National Academy of Recording Arts and Sciences, the Grammys were first held in 1959.
Pierre Cossette, who staged the first Grammys telecast in 1971, died in 2009 at the age of 85.