Jim Goldberg wins Deutsche Borse photography prize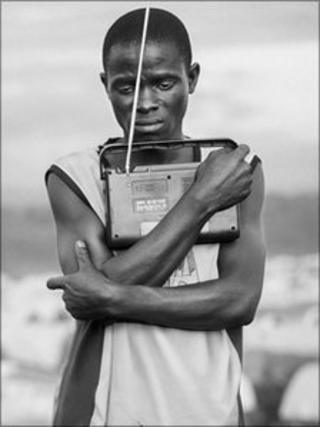 US photographer Jim Goldberg has won this year's Deutsche Borse photography prize for his exhibition Open See.
Shown last year at the Photographers' Gallery in London, the exhibition documented the experiences of refugees and immigrants travelling from war-torn countries to make new lives in Europe.
Goldberg, of the Magnum Photos agency, was awarded the £30,000 prize on Tuesday by broadcaster Miranda Sawyer.
The prize is awarded annually to a photographer for their work in Europe.
The other shortlisted photographers - Thomas Demand, Roe Ethridge and Elad Lassry - each received £3,000.
"The jury felt that any one of the four nominees could have been the winner," said Brett Rogers of the Photographers' Gallery.
Open See won the prize, he continued, because of its "timely and inventive approach to documentary practice."
All the shortlisted works are on show at the Photographers' Gallery in London until 1 May.
The gallery is currently housed at the Ambika P3 art space near Regent's Park while its central London premises are being renovated.