Russell Brand comedy Arthur stumbles at UK box office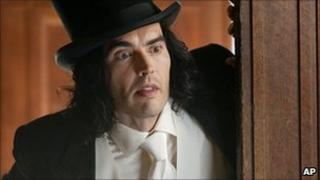 Russell Brand's remake of the 1981 comedy Arthur had a disappointing opening weekend at the UK and Ireland box office, taking just £764,468.
The film entered the chart at number three despite opening at 434 cinemas, averaging £1,761 per screen.
Fast & Furious 5 topped the chart with £4.01m - the biggest three-day opening of the year so far - taking an average £12,202 at each of the 437 cinemas in which it was screened.
Animated film Rio held at number two.
Arthur's poor opening will be a disappointment to film bosses after a more successful US opening of $12.2m (£7.4m) in its first three days.
The estimated $40m (£24.1m) budget movie, which also stars Dame Helen Mirren and Jennifer Garner, has earned $29.2m (£17.6m) to date.
The original 1981 film, which starred Dudley Moore and won two Oscars, took more than $95m (£57.3m) in worldwide box office receipts.
Boosted by a Thursday opening, the fifth instalment of the Fast & Furious franchise starring Vin Diesel took £5.3m over its first four days.
It helped bring the total box office haul for the top 15 films to £10.48m, the biggest in eight weeks.
However, takings for the rest of the top 15 were generally down for a bank holiday weekend.
Last week's number one, horror sequel Scream, fell three places to four with £730,963.
While Vanessa Hudgens film Beastly entered the chart at five after taking £553,069.
The biggest fall on the chart was James Franco and Natalie Portman comedy Your Highness.
After opening at three last week with £926,338, it fell eight places to 11 and took just £184,521, averaging £504 at 366 cinemas.