Fighter's real-life mother dies aged 79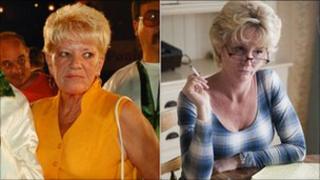 Alice Ward, the real-life boxer's mother who was portrayed by Melissa Leo in an Oscar-winning performance in Hollywood film The Fighter, has died.
The 79-year-old was mother and manager to boxers Micky Ward and half-brother Dicky Eklund, played in the film by Mark Wahlberg and Christian Bale.
Leo, 50, won the Academy Award for best supporting actress at the Oscars in February for playing Alice on screen.
Ward had a heart attack in January and was taken off life support on Tuesday.
Leo met Ward - depicted in the film as a domineering, foul-mouthed matriarch - a number of times while preparing for her role.
The actress denied hers was a negative portrayal. "There's no way in hell that when I played Alice Ward that I was playing a bad mother. Quite the opposite," she told the Hollywood Reporter.
During her acceptance speech at the Oscars, Leo thanked Ward and "your beautiful family that opened your hearts".
Ward's grandson, Dick Eklund Jr, told the Lowell Sun in Massachusetts that Ward was "the leader of our family".
"She was a great woman, a strong woman," he said. "She taught us all what it means to be strong because she never gave up on any of us."
Alice Ward is survived by nine children.