British rockers Asking Alexandria invade US chart
They are the latest British band to break America, having had an album in the US Top 10 last month.
But Yorkshire heavy metal group Asking Alexandria are virtually unknown beyond their devoted fan-base.
There is a maniacal melee in the moshpit, dozens of devil horned-hands in the air and a big, bright red bra, inscribed with the owner's phone number, that has been thrown at singer Danny Worsnop.
As he sings, Worsnop switches from a deep, demonic zombie growl to a strained, high-pitched, throat-grating rasp.
The rest of the band thrash out a thundering avalanche of sound, held together by a melodic spine and trancey synths.
On a couple of occasions, the crowd parts to make a large circular clearing in the middle of the dance floor, leaving some fans to charge around in a crazed heavy metal conga.
There are a few nervous-looking parents watching from the door.
Unless you have some festering anger or deep-seated disaffection with your life and the world, Wednesday's gig at the Manchester Academy 2 - part of a short, sold-out UK tour - was unlikely to be your cup of tea.
"It's like a battleground," founder and guitarist Ben Bruce says, describing the view he has during gigs. "It's insane.
"Sometimes you can't even hear what we're playing because the crowd are just so loud.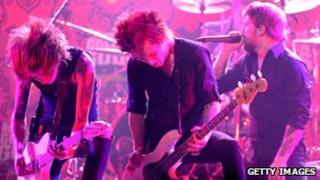 "There's a lot of violence for some reason. There were three ambulances called to our show in Birmingham [on Tuesday], which isn't good."
Asking Alexandria have built up a sizeable fan-base since their debut album came out two years ago. "There's a lot of angry people in the world right now," Bruce says.
"There's a lot of tension, a lot of problems, and it's a good way for people to let out steam I guess."
At one point last month, four British acts had albums in the US Top 10 - Adele, Radiohead, Mumford and Sons and Asking Alexandria.
The quintet play to 2,500-strong crowds in the US, have clocked up 20 million plays on MySpace and recently performed on Jimmy Kimmel's ABC chat show.
When actor turned celebrity wildman Charlie Sheen saw them, he invited the band to open for him on his US tour. They had to turn him down because it clashed with these British dates.
Camper van
In the UK, their second album - Reckless and Relentless, released a month ago - has not grazed the Top 75.
However, they have just been nominated for best British newcomers at the Kerrang! magazine awards.
Inspired by the super-cool, party animal images of the likes of Motley Crue and Guns N' Roses, the band was founded by Bruce in Dubai, where his parents moved when he was five.
He moved back to the UK five years ago and met Worsnop before recruiting guitarist Cameron Liddell, bassist Sam Bettley and drummer James Cassells.
Together they relocated to the US to have a crack at the big time.
Bruce and Worsnop say they borrowed money from their parents to buy a camper van and made their home in a Wal-Mart car park in New Jersey.
Scraping together enough money to record their first demos, they started gaining fans after putting those songs online. Record labels began to take notice.
"We did work really hard and took a massive risk doing it the way we did it, but it paid off," Bruce says.
The 22-year-old, well-spoken and clever, says he has a rebellious streak but is not as angry as some of his fans.
The intensity of the music is more a reflection of their "chaotic, unsettling" life on the road, he explains.
So what is a typical day in the life of a red-blooded rock band with the world at their feet?
"Wake up, still drunk from the night before," Bruce replies. "Start drinking. Have fun. If there's a group of fit girls walking past the bus, we'll invite them in.
"Have fun. Keep drinking. Play show. Keep drinking. Then pass out and do it again tomorrow."
Are they living the rock 'n' roll dream? "On the outside, yeah," says Worsnop. Yet the relentless touring schedule has made them restless and rootless.
"It's a lot lonelier than I thought it was going to be, if I'm perfectly honest," adds Bruce. "But it's still fun. I'm having fun. We're only young.
"You get thrown into stuff like this so you find ways to cope with being away from your friends and family all the time. I guess that's where alcohol and stuff comes in."
They have got all the sex, drugs and rock 'n' roll they could ever want. Yet Asking Alexandria are a bit aggrieved they have not found true bliss in the rock star lifestyle.
As a girl asks for an autograph and a bottle of whisky comes out of the tour bus, they keep looking.