Tracey Emin Black Cat tapestry goes on display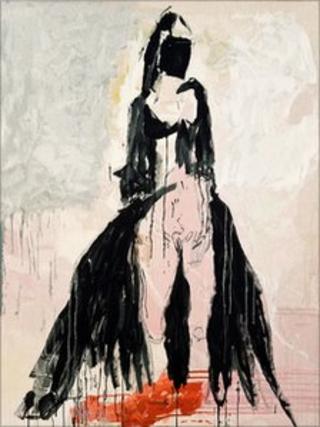 A tapestry of British artist Tracey Emin's Black Cat painting has gone on display at the Saatchi Gallery in London.
The work is being shown as part of the Craft Council's Collect international art fair for contemporary objects,.
Black Cat was a collaboration between Turner prize-nominee Emin and the West Dean Tapestry Studio.
The original painting took Emin "over seven years to complete" because "it's two completely different paintings".
"It has bold strong shapes, as well as subtle washes of colour.
She added: "I have always liked tapestries and they are something that I would like to collect."
More than 400 artists are being displayed over the weekend including Tobias Mohl, Betty Woodman, Kate Malone, Wendy Ramshaw and Michael Eden.
The exhibition takes place between the 6-9 May.