Eurovision song contest hopefuls whittled down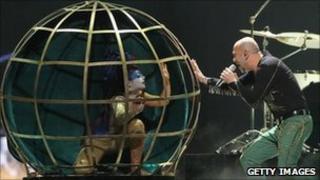 Nine countries have been ruled out of the Eurovision song contest after a semi-final that saw regular participant Turkey eliminated from the competition.
Norway, Albania, Armenia and Croatia are among other countries that will not progress to the next stage.
Serbia, Greece and Azerbaijan are among the 10 countries whose songs will go on to feature in Saturday's main event.
Twins Jedward will represent Ireland at the second semi-final, to be held on Thursday in Dusseldorf, Germany.
John and Edward Grimes will be competing with another set of identical siblings - Slovakian duo Daniela and Veronika, known as Twiins.
Turkey's exit marks the first time the country has failed to reach the final stage since semi-finals were introduced in 2004.
The country, represented by Yuksek Sadakat this year, first participated in Eurovision in 1975 and won the competition in 2003.
Its elimination follows a creditable second place at last year's event, which was won by German entrant Lena Meyer-Landrut.
The 20 successful semi-finalists will be joined by the so-called "big five" countries - Germany, France, Italy, Spain and the UK - who qualify automatically.
The UK will be represented this year by newly reformed former chart-toppers Blue, whose song - I Can - will be the 14th song performed on Saturday.