Bette Davis and Joan Crawford reunited on stage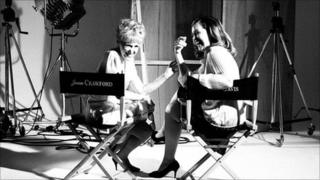 Nearly 50 years after Whatever Happened to Baby Jane? was released in cinemas, the creepy psychological thriller has lost little of its power to chill audiences.
It is due, in part, to the famously fractious relationship between the film's two leading ladies, Bette Davis and Joan Crawford.
Both Oscar-winning actresses in their autumn years, Davis and Crawford threw themselves into their roles as monstrous former child star 'Baby' Jane Hudson and her wheelchair-bound sister Blanche, bound together in sibling rivalry.
One scene left Crawford needing stitches for a wound caused by Davis actually kicking her. Davis herself injured her back after Crawford wore a heavily-weighted belt during a scene which required her to be lifted by her co-star.
These and other stories helped the low-budget shocker become a huge cult hit and have inspired a new play, Bette & Joan, starring Greta Scacchi as Bette Davis and Anita Dobson as Joan Crawford.
Mutual respect
The two-hour show sees the two actresses deliver a series of monologues from their adjacent dressing rooms.
Between soliloquies in which the actresses reveal what has driven them and their careers, the pair bicker and snipe at one another.
Many of the fabled stories about the film are addressed, such as the weighted belt which Dobson fastens around her waist with a gleeful grin.
Most of the stories of their bitter relationship exist now as anecdotes, enthusiastically seized upon by studio executives when it came to marketing the film.
"People want to dwell on the rivalry because it's more fun, but if these women had actually hated each other's guts they would never have worked together," says Dobson.
The pair's relationship was indeed full of contradictions - the intense rivalry was seemingly a product of Crawford landing MGM roles intended for Davis, who had taken a break from acting - yet it was Crawford that brought the script to Davis's attention.
Why she would offer a role to someone she supposedly despised is disputed, not least by Scacchi and Dobson.
"She couldn't think of anyone she more wanted to play it with than Bette Davis, so that's already a very generous gesture," says Scacchi
But Dobson argues "she also knew that nobody else on Hollywood would dare to play it".
"It was a part that she wouldn't play because she wouldn't make herself that unattractive," says Dobson. "But she knew that Bette Davis didn't care".
Trailblazing actress
With her powdered blonde wig, chalk-white face and cruel slash of red lipstick, Davis created one of Hollywood true monsters - a look and performance which has inspired both tributes and parody - notably by British comedians French and Saunders.
"We wanted to avoid parody, which is easy to slip into with this sort of subject," says Scacchi.
"There's going to be a great hope or expectation from the audience that they're going to see us wrestling at some point, but the play is much more delicate than that."
Bette & Joan comes from the imagination of writer Anton Burge - whose first play Whatever Happened to the Cotton Dress Girl? was a one-woman show about Bette Davis, starring Paula Wilcox.
He admits both plays are the result of a lifelong fascination with Davis.
"Bette Davis was fascinating because she represents that rare thing - a movie star and a real actress, and there was very little of that in Hollywood at that time.
"She really was the first and a real trailblazer for fine actresses".
Produced by Ann Pinnington, the play is being staged in the modest Arts Theatre. With a capacity of just 350, it is the smallest commercial receiving house in the West End.
It launches a relatively short run, in keeping with the current era of austerity and amid continued cuts to the arts.
Those cuts have heaped pressure on theatres to cast 'names' in lead roles.
Burge admits that, had unknown performers been cast, the play may never have seen the light of day.
"As far as the cuts go, its terrifying. We've been very lucky with the houses so far, but I think that to put a bum on a seat, you really do have to have a name."
"It would be very easy to get people that fitted the bill physically or could do a great impersonation of them, but we're trying to get to the root of what made the women tick," says Burge.
Dobson is still largely recognised for her TV roles, most famously as Angie Watts in EastEnders, while Scacchi has a long-established career in film.
Cross-generational appeal
Burge believes that the story should resonate with a new generation of theatregoers too, despite the fact that Baby Jane was released fifty years ago.
"I think the film is a cult classic," he says. "And Davis and Crawford still have a huge following of young people."
Crawford died in 1977, and it has been more than twenty years since Davis's death from breast cancer, in 1989.
"We may not be full of screaming teenagers, but I think that it would be a disservice to young people to imagine that they don't have a wider knowledge of films."
Dobson agrees, urging younger audiences to seek out the movie, saying "teenagers will love it"
"Its also funny," she says. "When you go and see drag queens, they pick out parts of the film because when they're parodied they are funny".
"They'll love watching this woman go completely nuts. It's a great story and that's what sells, a great story."
Bette & Joan is at the Arts Theatre until 25 June.