Will Ferrell to receive Mark Twain comedy prize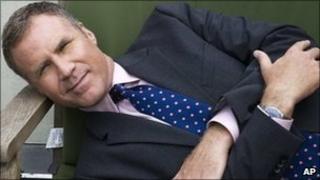 US actor and impressionist Will Ferrell is to be awarded one of America's highest comedy honours, the Mark Twain Prize for American Humor.
Ferrell, 43, who came to prominence on TV show Saturday Night Live, will receive his award at a televised tribute dinner on 23 October.
The prize, named after the novelist, is presented at the Kennedy Center for Performing Arts in Washington DC.
Previous recipients include Steve Martin, Bill Cosby and Whoopi Goldberg.
Ferrell, whose impressions include former US President George W Bush, said he would be growing "a Mark Twain-esque moustache" for the event.
The Anchorman and Zoolander star becomes the latest recipient of an award first won by Richard Pryor in 1998.
Last year's honour went to Tina Fey - also a star of Saturday Night Live - who became the third woman to win the prize after Goldberg and Lily Tomlin.