Brad Pitt launches new Terrence Malick movie at Cannes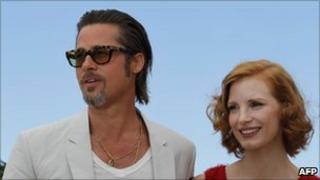 Brad Pitt has launched Terrence Malick's long-awaited drama The Tree of Life at the Cannes Film Festival.
The publicity-shy director was nowhere to be seen after the film's debut press screening on Monday was greeted with a mixture of boos and applause.
The film, set in 1950s America, revolves around the relationship between a father and son. It also stars Sean Penn and Jessica Chastain.
The Tree of Life is one of 20 films in the running for the Palme d'Or prize.
The secrecy surrounding Malick's film - and the director's own aversion to interviews - has made The Tree of Life one of the most talked about films at the festival.
Malick did not attend the post-screening press conference, leaving Pitt and co-star Chastain to face reporters.
Producer Sarah Green said Malick was "very shy" and Pitt defended his absence saying an "an artist should not have to be a salesman".
Pitt plays a loving but stern father, with Penn the grown-up son Jack reflecting on the people and moments that shape his life.
A short trailer, released in December, featured a number of mysterious cosmic images alongside scenes from 1950s Texas.
Dinosaur 'detour'
Early reviews were largely positive with Peter Bradshaw awarding the film five stars in The Guardian.
He wrote: "This is visionary cinema on an unashamedly huge scale: cinema that's thinking big. Malick makes an awful lot of other film-makers look timid and negligible by comparison."
Time Out's Dave Calhoun said: "The Tree of Life offers breathtaking imagery and even manages to survive an epic detour to the dawn of time, featuring the Big Bang, dinosaurs, meteors and all.
"It's so ambitious and full of inquiring ideas and questions about our place in the world that, perhaps inevitably, it feels like a grand folly - albeit a heartfelt and stimulating one."
It is Malick's fifth feature as a director. The 67-year-old American famously took 20 years between making his second film Days of Heaven in 1978 and The Thin Red Line in 1998.
Malick's last film was The New World (2005) starring Colin Farrell.
Cannes organisers had hoped to debut the The Tree of Life a year ago, but it was withdrawn by the film-maker at the last minute.
Monday's screening also marks the halfway point of this year's festival.
Last week, Pitt's partner Angelina Jolie was in the Cannes spotlight when she was in town to support her new animated film Kung Fu Panda 2, which is not in competition.