Imogen Thomas super-injunction 'blackmail' claim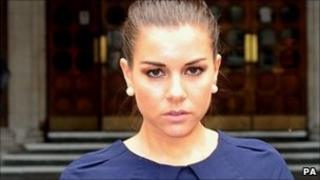 Among my picks of Tuesday's main media stories are the latest developments in the gagging order and phone-hacking cases.
The Big Brother star battling to overturn a High Court gagging order has denied accusations that she attempted to blackmail a Premier League footballer. The Guardian reports Imogen Thomas, 28, denies attempting to solicit £100,000, a signed football shirt, and match day tickets in order not to speak out about their alleged six-month affair. Mr Justice Eady on Monday reserved judgment following a joint bid by Thomas and the Sun to overturn the footballer's privacy injunction.
The BBC legal correspondent Clive Coleman adds that at the gagging order hearing, lawyers for the footballer applied to see e-mails sent by the Sun columnist Kelvin MacKenzie. They applied because MacKenzie said, on the BBC's Today programme, that he sometimes breaks injunctions and sends details to readers. MacKenzie is not a party to the case, but if the application is granted and the e-mails show him to be flouting injunctions he knew about, then he would be in contempt of court.
Hugh Grant told Radio 5 Live as reported in the Independent that a Scotland Yard officer investigating phone-hacking by the News of the World had shown him evidence of how he and his family had been targeted by the newspaper. Grant said the Metropolitan police officer had led him to believe that "big heads will roll soon" at Murdoch's company.
The first BBC employees have started work at the corporation's new northern headquarters at MediaCityUK, Salford Quays. Digital spy calls it the "single most ambitious staff move in the BBC's history".
The director of BBC North Peter Salmon says in the About the BBC blog that a new BBC North website and a Twitter account will hopefully become destinations to engage with licence fee payers and encourage them to "help us furnish our new home with fresh ideas and suggestions".
"Down and out in Manhattan" is the Guardian's headline, above a picture of IMF chief Dominique Strauss-Kahn slumped outside a New York courtroom, as reported in the BBC's newspaper review.