Snoop Dogg: 'I'm up for new tricks'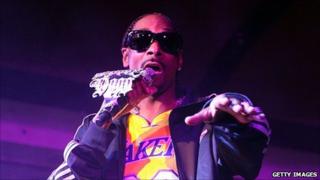 US hip hop star Snoop Dogg on the global dominance of hip hop, working with country legend Willie Nelson and why he recorded a charity single with Charlie Sheen.
Snoop Dogg settles himself down into an enormous golden throne and raises a mug emblazoned with a union jack.
"Fancy some tea?"
It is clear from the outset this is to be no ordinary press conference.
Snoop Dogg has taken over a central London "gentlemen's club" to meet UK journalists to promote his new album and UK tour.
His arrival in the chandelier-lit nightspot is preceded by several girls gyrating on a pole next to his throne.
It's like walking onto the set of a Snoop Dogg music video.
When he does appear, the rapper - also known as Calvin Broadus - is quick to thank the fans who fought to get his UK travel ban lifted last year, allowing him to play at Glastonbury.
The artist was denied a UK visa in 2007 after a fracas at Heathrow Airport involving members of his entourage.
Snoop Dogg is something of a music industry survivor, having burst onto West Coast hip hop scene with 1993's Doggystyle.
2011 sees the release of his 11th album, Doggumentary - an eclectic 21-track record that features guest spots from the likes of Kanye West, Bootsy Collins, Gorillaz, T-Pain and David Guetta.
Sweat, his single with Guetta, has spent several weeks in the Top 10.
'Easiest job'
So how much has music industry changed since Doggystyle?
"It's become more commercialised and more open to rappers and hip hop," Snoop tells the BBC. "When I first came hip hop was the bad boy of music. It wasn't cool to listen to.
"Now hip hop is a part of everything that's moving - whether it's sports, TV, entertainment - you have to incorporate hip hop or your thing won't sell."
The 39-year-old musician admits he has "the easiest job in the world".
"I love all music," he says. "I don't like staying in one lane and doing the short, sweet and simple. I like doing the different and the edgy."
That may explain two of Snoop Dogg's recent collaborations.
Doggumentary's most unlikely guest-star is American country legend Willie Nelson, on the track Superman.
"I fell in love with his music as a kid," the rapper explains.
"Once I was able to make records I found that we were in the same circle: Willie's got long hair with braids, he likes to do the herbal essence... so it was natural for me and him to come together.
"We created a song that was in his vein - I didn't want to create a hip hop song and put him on it."
'Little bit of crazy'
Earlier this month, Snoop Dogg released Winning - a charity single with Charlie Sheen for the victims of the US tornadoes.
The track was recorded during Sheen's recent stand-up tour around the US. The actor had been making headlines after he was sacked from US drama Two and a Half Men in March following a series of public outbursts.
Was Snoop Dogg worried how people might react? "I don't judge my friends by what other people say about him," he replies.
"He called me over for a session and as a friend I came for him. He needed real people to stand by him to show that he wasn't as crazy as people said he was. Everybody's got a little bit of crazy in them."
Asked for his opinion on the X Factor and American Idol, Snoop Dogg takes the opportunity to plug his own idea to find the kind of "raw talent" that isn't reflected on primetime TV.
But it's on the relevance of hip hop to today's audience where he becomes most passionate.
What does he think about criticism that older rappers talking about brands like Gucci have no meaning to kids on the street?
"We nurtured hip hop from the beginning. It's grown into different walks of life. I go to different countries and I see how people take hip hop and they make it theirs.
"It was created by the youth for the youth and as hip hop grows it's going to be played with and tampered with, but it's grown out of one little box in the Bronx."
Asked if Doggumentary will be his final album, Snoop Dogg doesn't hesitate, although his face remains impassive behind his shades.
"No baby, because this old Dogg is always up for some new tricks."
Doggumentary is out now. Snoop Dogg's single Boom (featuring T Pain) is out on 27 June. Snoop Dogg headlines the Lovebox Festival on Saturday 16 July.