Stephen Fry joins Hobbit cast as the Master of Laketown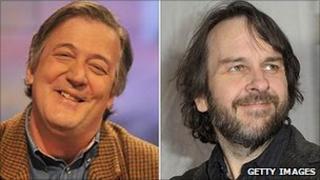 Writer and broadcaster Stephen Fry is to have a role in The Hobbit, its director Peter Jackson has announced.
The film-maker said he was "thrilled" to confirm Fry would be playing 'The Master of Laketown' in one or both of the Lord of the Rings prequels he is currently shooting in New Zealand.
"I've known Stephen for several years," wrote the director in a casting update posted on the Facebook website.
"He's a terrific actor and will create a very memorable Master for us."
According to Jackson, he and Fry are currently working on a new version of classic World War II film The Dam Busters.
Laketown, or Esgaroth, is a place where elves and humans meet to trade in the fictional universe of JRR Tolkien.
Martin Freeman and Sir Ian McKellen are among the other British actors currently working on Jackson's eagerly awaited addition to the Rings saga.
The Hobbit: Part 1 is due in cinemas in December 2012, with its follow-up due for release 12 months later.