Why is Lady Gaga so powerful?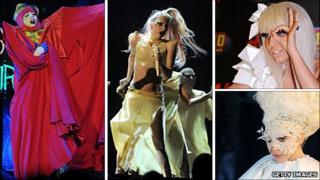 Just three years since Lady Gaga had her first US number one single, the pop star has claimed the top spot in Forbes magazine's annual Celebrity 100 list.
The Paparazzi star moved up four positions from last year and has knocked TV chat show host Oprah Winfrey of the top spot.
But how has the singer become such a global phenomenon in such a short space of time?
Four experts in music, fashion and social networking give their verdicts.
George Ergatoudis - Head of Music Radio 1
"The key thing is Lady Gaga realised by using all the current social networking sites, and integrating that with her fashion, she has become an all-round entity. Every time she goes out the door she's looking different, she's getting photographed, she's aware of that and she's using it by updating herself literally on a daily basis.
There's always something interesting about her for people to talk about. It excites both the social networking space and potential fans but has also become a huge matter of public interest.
Another key thing was that quite early on, her record label decided one of the things that was missing from the story was showing how gifted she is as a musician.
They put her in the record company office with a piano and they filmed her doing several of her singles. They put it up on YouTube and that had an incredible effect too.
A lot of pop artists are brilliantly polished in the studio by the producer, autotuned within an inch of their life but underneath it, she genuinely is a very, very talented and gifted musician.
She feeds that insatiable appetite for that continually updated image and story but her music alone would have been enough to get her support at Radio 1.
The music she makes, the songs she writes, the production she has are all brilliant, contemporary pop music. She literally is turning into a global superstar."
Calum Brannan - Co-Founder of social Networking support company Crowd Control HQ
"Social media is a reflection of what we love, so people are becoming very good at sharing exactly what they love and the brands and musicians they love.
YouTube is one of the biggest search engines in the world, people are now discovering new music that way.
The fact she has 10 million Twitter followers and 30 million Facebook fans is a massive reflection on Lady Gaga and the influence she has.
Once out there, Twitter and Facebook help keep that person's profile alive. Her fans are constantly talking about her and sharing everything she does even when she's not on stage or in concert.
People can go to her gig, take photos, record video and then that footage lives on. I think even if she wasn't on Facebook and Twitter, her fans and followers would put her there anyway. But the most important thing is, she is on there and she's harnessing that.
People relate to her and social networking is all about that personal connection. People look at her background and where she's come from and they look at what she's achieved in a relatively short period of time."
Ben Cardew - Music Week News Editor
"She's kept really close attention to everything, so if you look at her live show, it's really closely co-ordinated and she works with her own company - The House of Gaga to do it.
She's got a really good idea of what she wants and how to do it, and that's what makes a really strong brand.
In terms of money, she ploughs a lot of the money she makes into touring and you could call that a fundamental business strategy because it's essentially making a better product.
I think she's done it by making good music. She creates really good live performances and has a good level of control over what she does, working with people close to her - which is always a good idea. She's also got very communication with her fans so information comes directly from her."
Jo Hoare - Style Editor of Heat magazine
"She seems to be fearless. We can see that she's fearless on stage and she seems to be fearless every time she opens her mouth.
She's not held back by the things that most women in the public eye are held back by, which is wanting to be sexy and glamorous. Basically what most women want to be is to be pretty and I don't think she cares. We can see that when she puts those ugly bumps under her head or paints her whole face like a skeleton.
I think prettiness and being admired by straight men comes quite low down on her scale of importance, which makes her very different. I also think it makes her the fashion industry's dream because she is happy to wear the kind of avant garde art that they create. She doesn't want to look glamorous and be at the top of the best dressed polls.
I think she is a fashion icon. In terms of it filtering down to the high street, you think 'there's no way anyone is ever going to go out wearing electric blue nipple plasters and nine inch heels' but I think you'd be surprised at the subtle ways it does factor down.
You always think she is never going to top her last outfit - I think the meat dress is the one that comes to most people's minds - but then the next week she has gone out in something else extreme, like shoes that look like she must have been wheeled onto stage. She really knows how to keep shocking people.
She's definitely got to be very quirky and eccentric to be going to these lengths, but ultimately it does get her on to the front pages. With a new album out this week and going out dressed in ludicrous outfits, it is going to get her publicity. She's not stupid, she knows to capitalise on that."