Sherlock star Benedict Cumberbatch set for Hobbit role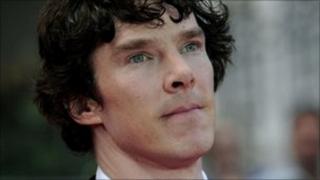 Sherlock star Benedict Cumberbatch has landed a role in The Hobbit, his Sherlock co-star Martin Freeman says.
Freeman let the news slip backstage at the Bafta TV awards on Sunday, where Sherlock picked up the prize for best drama series.
Freeman plays Bilbo Baggins in Peter Jackson's two-part fantasy film, due out in 2012-13.
Asked about his role, Cumberbatch remained tight-lipped: "I can't say at the moment, thank you very much."
Freeman said later: "I knew I was a sort of a big mouth but I didn't realise to what extent I was a big mouth, and I've just ruined everything.
"I might not actually go back to a job - they might have just sacked me."
Cumberbatch joins a cast on the Tolkien epic, currently filming in New Zealand, which includes Hugo Weaving and Sir Ian McKellen.
Earlier in the week it was announced that writer and broadcaster Stephen Fry would have a role in The Hobbit playing The Master of Laketown.
Freeman said: "He's a scholar and a gentleman and I'm very pleased to welcome him aboard."
Freeman also played tribute the late actor Edward Hardwicke, who played Dr Watson to Jeremy Brett's Sherlock Holmes in the Granada TV adaptation in the 1980s and 90s.
Hardwicke died last week aged 78.
Freeman said: "He was a great Watson, they were really good adaptations, it was great television.
"I found out when a friend texted me while we were filming the second series of Sherlock, and I texted him back and and said hopefully I'll pick up the torch."