Pirates of the Caribbean film plunders box office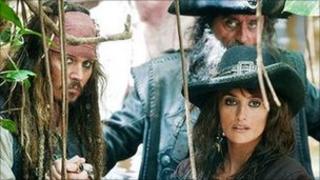 The fourth instalment in The Pirates of the Caribbean franchise has become the biggest UK box office opener so far this year.
Pirates of the Caribbean: On Stranger Tides made £11.6m during its first weekend.
But it made less in its first few days than the previous Pirates film, At World's End, which took £13.4m four years ago.
Fast and Furious 5 stayed at number two on the chart, with takings of £537,617.
Thor dropped from top spot to number three while Insidious remained at four.
The two other new entries in the top 10 were thriller Blitz, starring Jason Statham and Paddy Considine, and comedy drama Win Win.
The fourth Pirates film took slightly more in its opening weekend than the second movie, Dead Man's Chest, which took £11.4m in 2006.
On Stranger Tides stars Johnny Depp, Penelope Cruz and Ian McShane.
Figures courtesy of Screen International