Oscar voting 'to go electronic'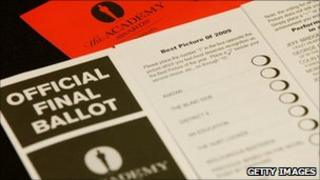 The body behind the Oscars is to replace its mailed ballot system with online voting, according to reports.
In a letter reportedly sent last week to its voting members, the Academy of Motion Picture Arts and Sciences (AMPAS) said an electronic system would be implemented "as early as this year".
Members are believed to have been asked to supply a personal email address.
If mailed ballots are eliminated, the Oscar ceremony could potentially be held earlier than is customary.
That could result in a wholesale foreshortening of the entire US awards season, which traditionally extends from the Golden Globes in early January to the Academy Awards in late February or early March.
Next year's Oscars ceremony has been confirmed for 26 February, so any significant date change would not happen until 2013 at the earliest.
Under the current system, nomination ballots will be mailed to the Academy's 6,000-odd members on 27 December.
Final ballots will be mailed on 1 February 2012 and must be returned within three weeks in order to be eligible.
In 2004, nearly 250 UK-based voting members risked missing the deadline after their ballot papers were lost in the post.