'Video nasty' director Deodato debates censorship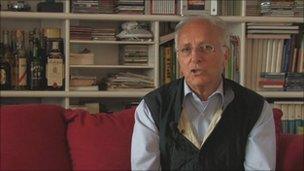 Ahead of a public debate on censorship, director Ruggero Deodato explains what he might have done differently when making his controversial Cannibal Holocaust.
"I've always moved between genres," says Italian director Ruggero Deodato. "I've made comedies, fantasies, dramas, disaster movies, cannibal horrors, commercials, and a children's TV series."
But it is for his horror movies that Deodato is best known: 1979's Cannibal Holocaust was one of the most notorious of the "video nasties" which dominated the 1980s.
Controversial for its realistic depiction of violence and its unsimulated animal killings, it was not until 2001 that Cannibal Holocaust was formally submitted to the British Board of Film Classification for DVD release. Almost six minutes of the film were cut.
Now a new edit of the film, presented by Deodato himself, will premiere in London on Thursday night at Brunel University's Cine-Excess V conference on cult film. Ahead of the screening, Deodato will take part in a public debate session with senior BBFC examiner Craig Lapper.
The director's controversial cult catalogue - including his 1980 horror-thriller House on the Edge of the Park - will be the subject of a keynote address by Professor Martin Barker of Aberystwyth University.
"All debates on cinema are good for the artform," Deodato tells the BBC. "I'm very pleased to attend the debate in London. I've missed my British audience - and times have changed."
Earlier this month - 10 years after its previous examination - the BBFC passed a longer 18-rated cut of Cannibal Holocaust for a forthcoming DVD and BluRay release, reinstating most of the 2001 cuts. The BBFC gives a detailed summary of its decisions on its website.
Deodato's story centres on four film-makers who go missing in the Amazonian jungle, leading to fears that they have been killed by the local population. But a different story emerges when their film equipment is discovered and returned to New York.
"The most important aspect of the film was the original use of reportage style," says Deodato.
"The special effects aimed to make people believe what they were seeing was real. I've always loved realism since my working with the maestro [Italian film director] Roberto Rossellini."
Is there anything he wishes he had done differently?
"I think the cuts of the new edition are right. If I had the chance to go back in time, I'd have avoided the animal killings. I paid a high price for that, such as losing the pleasure of introducing Cannibal Holocaust to the UK public."
Deodato is currently planning to direct a sequel to The House on the Edge of the Park. The original film was also on the "video nasty" list and was cut by almost 12 minutes for its scenes of sexual violence when it was passed by the BBFC in 2002.
"I think its themes are still relevant," says Deodato. "It will be good to return to this genre, but I never forget that reality is more extreme than any fiction."
The Cine-Excess panel discussion takes place at the Odeon Covent Garden on Thursday 26 May at 1830. Cannibal Holocaust will be released in UK on DVD by Shameless Screen Entertainment in September.
Related Internet Links
The BBC is not responsible for the content of external sites.