Why did Cheryl Cole get dropped from American X Factor?
By Fiona Bailey
Entertainment reporter, BBC News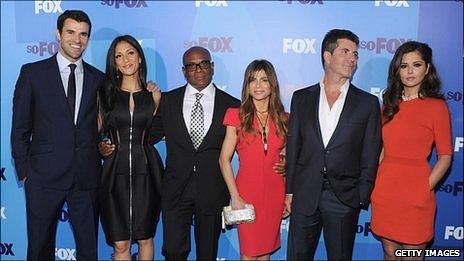 Almost three weeks since it was announced that Cheryl Cole would be joining the US X Factor judging panel, the British pop star has already been dropped, according to reports.
As the news spreads across the pond, back home in the UK, some fans are wondering whether her role on the show was a glorified PR stunt.
Times columnist Caitlin Moran says the conspiracy theories being written about Cole on the micro-blogging site Twitter make the mystery of JFK's assassination look like "chicken feed".
"All of Britain is absolutely obsessed with the truth behind what's going on. No one can seem to take on board the fact that it was probably just a big mistake and some people changed their minds."
Since The X Factor began in 2004, the show's popularity has soared - matched by the headlines that accompany each series.
Contestant fall-outs, off-screen relationships and spats among judges are just some of the lines that have been fed to the media, to satisfy the demand for X Factor-related gossip.
Now, Simon Cowell is launching the show in the US, having ditched his pivotal role on rival talent show American Idol, and there is everything to play for.
"If it has been set up, then that is Simon Cowell really messing things up for Cheryl," Moran comments. "I don't know that even Simon Cowell would do that."
"It would be really bizarre to get publicity by humiliating her. I think it's far more likely that someone has messed up."
But Moran believes it was no shock that Cole's brief introduction to the US market did not end well.
"I just couldn't even see how, or why, it would work. The one thing America is not short of is pretty girls. I couldn't work out why they would export one over there. It was absolutely baffling."
Olivia Foster, a reporter at celebrity magazine Heat, agrees.
"She [Cheryl] has kind of struggled. Essentially America doesn't know who she is. I think there's a big problem with people not warming to her instantly."
With filming for the UK version of the X Factor about to start, Foster concedes it might be good timing for Cole's return.
"It's a bit of a coincidence," says Foster. "The female judge hasn't been announced yet, there's been lots of rumours that it's Tulisa [from N-Dubz], but nothing confirmed.
"It wouldn't surprise me if she came back."
This is, of course, not the first time a member of Cowell's on-screen team has been publicly dropped.
In 2007, it was announced that Louis Walsh - friend of Cowell and longtime judge - would not be returning to the British X Factor.
He was briefly replaced for a few weeks by dance expert and choreographer Brian Friedman, before he was re-instated.
The whole episode was played out in carefully edited scenes which featured Cowell telling his colleagues that "something doesn't feel right". But claims that it had been engineered were dismissed by the show.
Then, in 2009, model Kelly Brook lasted only two episodes in Cowell's other popular Saturday night show, Britain's Got Talent, before it was decided that she too would not return.
"No one should underestimate the immense imagination of the Simon Cowell PR machine," says Mimi Turner, contributing editor for The Hollywood Reporter.
"But it's not so much a skilfully, well thought out strategic plan on the show - I think they just don't make decisions until very, very late."
"The people who deal with Simon themselves don't know what's going on. The decisions in the UK are made by him at the very last minute."
Turner says that Cole has failed to make any impact on her US news colleagues, because, unlike her assumed replacement, former Pussycat Doll Nicole Scherzinger, no one in the States knows anything about the 27-year-old from Newcastle.
"She's the nation's sweetheart in the UK and audiences have been through all her ups and downs with Ashley [Cole], but Nicole ticks more boxes [in the US]."
And despite her pristine smile and shiny hair, Turner believes Cole lacked the requisite glamour for US audiences.
"I've looked at some of the pictures and I thought she didn't look happy or confident. She seemed to be on the outside," Turner says.
There have also been claims that she lacked chemistry with fellow judge Paula Abdul and that studio bosses were concerned her Newcastle accent would not be understood.
"Who knows whether this is part of a giant PR stunt, I'm not clever enough to know, but there are reasons why she did not fit into a major show for a major network, and I don't think it's all down to the accent."
But media commentator Mark Borkowski believes the Geordie accent was the key issue.
"I always thought it would be a struggle for her to convert for American audiences because of her accent - and she just wasn't a big enough personality," he explains.
"Very few people have crossed the line to become a global star, and Americans love their own."
He also claims there is a media "battle" going on between Cowell and Simon Fuller, another British music executive working in the US.
The announcement about Cole was leaked the same day as Fuller's show, American Idol, unveiled its winner.
"Best friends in life possibly, but mortal enemies in business. So whatever they can do in PR terms, like make a big announcement, they do," says Borkowski.
However, he is adamant Cowell had high hopes for Cole's US transition.
"It's something he wanted to work, but it was an ambition too far.
"Every entertainment name wants to be global, and she's never going to be a global pop star. Beyonce and Leona, she's not.
"I don't think it will damage her career here in the UK, but it's seriously derailed any attempts for her to become a global name."
He admits to feeling "very sorry" for the singer, but says it is too early to resign her to the celebrity scrapheap just yet.
"She knows that Simon tried his best for her and she's got the time to recover. She's got such a huge fan base, don't go writing her off on Cheryl Cole just yet."
Related Internet Links
The BBC is not responsible for the content of external sites.