Twitter may reveal users' details to authorities
Torin Douglas
Former media correspondent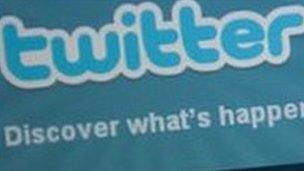 This round-up of today's main media stories covers an admission by Twitter that it would hand over details of users to the authorities.
A senior executive from Twitter yesterday admitted that the website would give information to authorities if it was "legally required" to do so, reports the Daily Telegraph. Experts had previously assumed that people who breached gagging orders on Twitter were protected from legal reprisals because the website is outside the jurisdiction of British courts.
According to reports in America, Cheryl Cole has been replaced as a judge on the US Factor after just two weeks of filming. The Daily Mail says she is "believed to have been sensationally sacked" before the show has even hit TV screens because of her Geordie accent. The Sun quotes a source saying she is homesick.
BBC Worldwide, the commercial arm of the BBC, has confirmed private equity firm Exponent as its preferred strategic partner for BBC Magazines. The Guardian says discussions will continue with Exponent, with a view to completing an agreement this summer, subject to the final approval of the BBC Trust. Exponent owns thetrainline.com and the Ambassador Theatre Group.
Brand Republic reports Digital Radio UK will run a campaign to promote awareness and understanding of digital radio as research shows a high proportion of consumers without a digital radio consider them to be too expensive. It is timed to coincide with ads for BBC Radio 4 Extra running on BBC TV and radio.
One of the most-watched programmes in US history, The Oprah Winfrey Show, ended on Wednesday after 25 years. But the impact of its hostess goes far beyond television, writes Tom Geoghegan of BBC News. She has become a cultural phenomenon and one of the richest people on the planet. He chooses 10 key moments from the show.
Barack Obama's speech in Westminster Hall is analysed in detail in Thursday's newspapers and there is also much assessment of the impact of the US president's state visit, as reported in the BBC newspapers review.