British sculptor Leonora Carrington dies at 94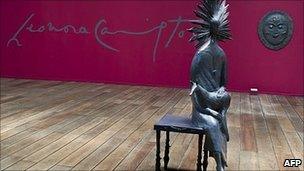 Surrealist painter and sculptor Leonora Carrington has died aged 94, Mexico's National Arts Council has confirmed.
The artist, who lived most of her life in Mexico, first rose to prominence in 1947, when she showed her work at the Pierre Matisse Gallery in New York.
She was considered to be one of the last of the original Surrealists and was best known for her haunting and dreamlike works.
Last year, the UK held the first major exhibition of her work in 20 years.
It took place in Chichester at the Pallant House Gallery as part of a season of major exhibitions celebrating the place of women in the Surrealist movement.
Born in Lancashire, Carrington was educated in Florence and also attended the Chelsea School of Art in London.
In 2005, Christie's auction house sold Carrington's Juggler for $713,000 (£436,220), believed to be highest price ever paid for a living surrealist painter.