Carlos Santana and Herbie Hancock battle Grammy changes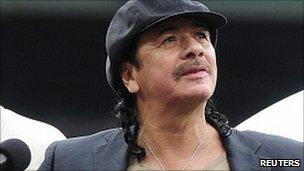 Musicians including Carlos Santana and Herbie Hancock have criticised Grammy Award organisers for dropping categories from the annual show.
It was announced last month that at least 30 categories would be cut.
The musicians, who argue the changes were made without consulting Academy members, have delivered a letter of protest to the Recording Academy.
But president of the musical organisation Neil Portnow said a members' committee had been consulted.
Contemporary blues, Native American, Hawaiian, and Latin jazz are among the 31 categories that are being cut from the prestigious awards show.
The musicians are calling for the categories to be reinstated, saying the reductions unfairly target ethnic music.
Paul Simon, of Simon and Garfunkel fame, wrote a separate letter to Mr Portnow.
"I believe the Grammys have done a disservice to many talented musicians by combining previously distinct and separate types of music into a catch-all of blurry larger categories," he wrote.
"They deserve the separate Grammy acknowledgements that they've been afforded until this change eliminated them."
Santana also wrote to the academy, saying: "To remove Latin Jazz and many other ethnic categories is doing a huge disservice to the brilliant musicians who keep the music vibrant for their fans - new and old.
"We strongly protest this decision and we ask you to represent all of the colours of the rainbow when it comes to music and give ethnic music a place in the heart of music lovers everywhere."
The aggrieved musicians held a protest in Beverly Hills, California at an academy board meeting making their feelings known to the board.
Speaking to KABC-TV, singer-songwriter Pepper Mashay said: "Reinstate the categories. Reinstate all of them. Let the chips fall where they may on the talent."
In an interview earlier this week, Mr Portnow said he understands the frustration of those affected.
"In this year's awards, there were 34 mainstream categories. Next year, with the changed revision, there will be 20 mainstream categories.
"That's a significant reduction in mainstream areas. In non-mainstream categories there were 71. In the upcoming 54th awards, there will be 54."
He denied the decision had been made without consulting members.
"This is a committee that is made up of members of the academy who include musicians and producers, engineers and experts in the various fields.
"There was well over a year and a half discussion within that group, in that committee. They recommended the overall changes to the process to the board of trustees, which was discussed thoroughly."
The Grammy Awards usually take place in February. A date for the 54th annual ceremony has yet to be announced.
Related Internet Links
The BBC is not responsible for the content of external sites.