Surrealist artist Leonora Carrington dies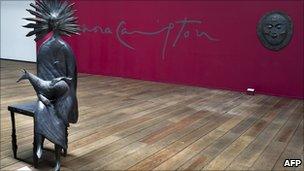 Leonora Carrington, considered one of the last of the original surrealist artists, has died at the age of 94, Mexican officials have said.
British-born Carrington arrived in Mexico after she escaped from a mental hospital and fled Nazi Europe.
She settled there, becoming an iconic figure and creating works of art that depicted mythical worlds.
As well as creating sculptures and paintings exhibited around the world, she wrote novels, essays and poems.
"She was the last great living surrealist," her friend, poet Homero Aridjis said. "She was a living legend."
She was known for haunting, dreamlike works focusing on strange ritual-like scenes with birds, cats, unicorn-like creatures and other animals.
She died on Wednesday after suffering from a respiratory illness, Mexico's National Council for Culture and Arts said.
Ms Carrington's life was full of dramatic twists and turns.
Born in Lancashire, England, into an aristocratic industrial family in 1917 she took up painting at a young age.
At 20 she moved to Paris, falling in love with Surrealist painter Max Ernst, who was 26 years older than her.
He introduced her to major figures within the movement including Salvador Dali, Marcel Duchamp, Joan Miro and the founder of the group, Andre Breton.
She held her first surrealist painting exhibits in 1938 in both Paris and Amsterdam.
After Ernst was arrested by the Gestapo in Nazi-occupied France in 1939 she fell into a deep depression and was committed to a psychiatric hospital in Santander, Spain.
She managed to escape and, in Lisbon, she married the Mexican poet and journalist Renato Leduc.
In 1942 , they travelled to Mexico where she settled permanently, befriending painter Frida Kahlo and future Nobel laureate Octavio Paz.
She married her second husband, the Hungarian-born writer-photographer Emerico "Chiki" Weisz, in 1946 and had two children.
"She created mythical worlds in which magical beings and animals occupy the main stage, in which cobras merge with goats and blind crows become trees," the National Arts Council wrote.
"These were some of the images that sprang from a mind obsessed with portraying a reality that transcends what can be seen."
Related Internet Links
The BBC is not responsible for the content of external sites.