Mark Zuckerberg warns G8 against web regulation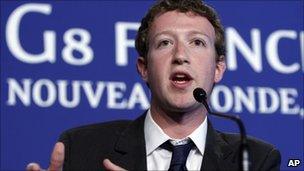 This round-up of today's main media stories includes a warning to world leaders not to try to regulate the web.
Leading internet figures have warned world political leaders against trying to regulate the web, saying it has flourished without government interference. The Guardian says Facebook's founder, Mark Zuckerberg, told leaders at the G8 that excessive regulation would not work. G8 leaders agreed a statement welcoming the role of the net in providing economic growth and personal freedom, but also warning of its threat to privacy and intellectual property.
The owner of the Daily Mail suffered a surprise fall in advertising revenues at its national and regional titles last month, reports the Independent. Shares in Daily Mail & General Trust (DMGT) closed more than 7% lower after the company released its half-yearly financial report yesterday, and warned of the ongoing effects of the "volatile and uncertain" markets this year.
In British TV Simon Cowell's word is law, writes Adam Sherwin in the Independent. But in the US a higher power exists - Rupert Murdoch's Fox network - as Cheryl Cole has found out, as it is rumoured her reign on the US version of The X Factor came to a brutal end.
Homes and businesses in four rural English counties are to get superfast broadband connections, reports BBC News. Devon and Somerset will share £30m of government funding for the roll-out, Norfolk will get £15m and Wiltshire £4m. Each area will also get cash from their council and private investors.