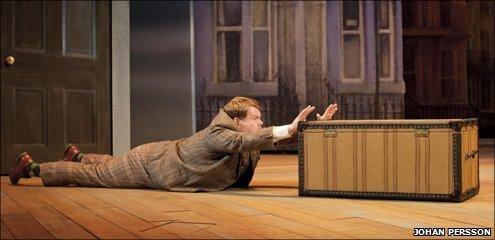 The tall, elegant, mature woman in seat L20 of the stalls sat motionless, back straight, head forward; poised.
She had the look of a seasoned National Theatre-goer; one who had developed a connoisseur's eye for the actor's craft and a sophisticated ear for intelligent dialogue.
Thirty minutes later she was a mess. Bent double one moment, jerking her head back the next. Mascara-tainted tears splashed onto her blouse, she complained of an aching stomach and murmured something about pelvic floor muscles. Her face was puce.
And then, when it seemed that she could bear no more, there was an incident on the stairs involving an old man and she gasped in uncontrollable pain: 'this is too much!' But nobody listened to her pleas or paid her any attention although the theatre was packed. There was no help to hand.
That's because everybody else was similarly afflicted. The place was a mass of writhing, howling bodies. I truly have never seen anything like it before. The chin-stroking classes had lost it, dissolved as they were into one hysterical, contorted group.
Meanwhile, back on the stage, James Corden, continued his virtuosic performance that is as good as any I have seen since Mark Rylance's tour-de-force as Johnny 'Rooster' Byron in Jez Butterworth's Jerusalem.
He is playing Francis Henshall, a sacked skiffle player who has offered his unreliable services to two gangland bosses. He does so with comic timing that is as precise as a Swiss watch.
The moment he swipes a silver bowl full of soup away from Alfie, the octogenarian waiter (played with aplomb by Tom Edden), thus removing the ballast keeping the old fella upright is comedy gold. Alfie crashes down the stairs, the audience howl with laughter (this was the bit that was 'too much' for the lady in L20).
The nonchalance of James Corden's on-stage presence belies the difficulty of the part - it's as if he is sitting back smoking a cigar while driving a speeding rally car through a forest, at night, with only his little finger on the wheel.
He does so with a knowingness flickering in his eyes - aware that some consider him arrogant and smug. He's not apologising, but he is acknowledging.
The fact is that he and the rest of the cast are very, very funny. The play - One Man, Two Guvnors - is very, very funny. It is Richard Bean's rebooting of Carlo Goldoni's Commedia dell'Arte eighteenth century play, The Servant of Two Masters. Bean has changed the time and place of the original, resetting the action in Brighton, 1963.
But he and Nick Hytner, the production's director, have retained the principal elements of a Commedia dell'Arte production. Corden plays the Harlequin, a comic servant prone to greed and stupidity, blessed with an unlikely athleticism.
And the improvisation on which this, the first form of professional theatre, was based is omnipresent, with Corden pulling punters up from the front row and bantering with the audience like a stand-up comedian.
But it is noteworthy. Because the National Theatre is also currently presenting London Road - the story about the murder of five prostitutes by Steve Wright in 2006; a resident of London Road, Ipswich.
The two could not be more different in subject and style - London Road tells its story in a innovative verbatim style with musical accompaniment where the actors sing the words more than speak them.
But like One Man, Two Guvnors, it is a new play produced by the National Theatre that has received five-star reviews and is playing to full houses.
To win with one new play in a season might be regarded as good fortune, to do so with both looks like cleverness.
And Nick Hytner - the National's Artistic Director - has been extremely clever. And bold. War Horse - another play developed and produced by the National Theatre - is currently running in both the West End and Broadway. As did Alan Bennett's History Boys before it, the film of which Hytner directed.
That production also featured James Corden, giving the actor his big break. It was the chance to work once more with Hytner that Corden cites as the reason he wanted to play the lead in One Man, Two Guvnors. Good call.
If busy diaries allowed I wouldn't bet against the same outcome for this play: a West End run, then Broadway, followed by One Man, Two Guvnors, the movie.
It's that good. Just ask the tall, elegant, mature woman in seat L20 of the stalls.
At the end she sat slumped in her seat, beaten and vulnerable like a Grand Slam finalist, having had layer after layer of reserve and pretence peeled from her to reveal a bawdy individual whose belly laugh was indistinguishable from the cackle of Eliza Doolittle.
The actors revelled in their power to emotionally disrobe and disarm. And so did she.