Pulp comeback gig charms critics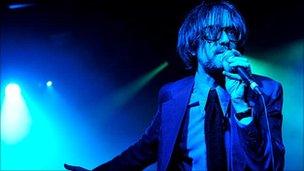 Indie band Pulp have made their return to the live stage at a festival in Spain, after a break of a decade.
The classic six-piece line-up from the group's 1990s heyday performed hits including Common People, Disco 2000 and Babies at Primavera in Barcelona.
NME magazine reviewer Leonie Cooper wrote: "Jarvis and the gang played for a storming hour and half to an utterly devoted crowd."
Praising frontman Jarvis Cocker's rediscovery of his "twitching, pouty dance moves", she wrote that it was "evident how happy they are to be back on stage, doing what they do best".
"They kept their promise to play fan favourites, and performed them with an assuredness gained from years of live experience," she added.
Spinner.com critic Farah Ishaq declared that Cocker "put on a note-perfect performance, teasing the eager crowd throughout".
The band, who reached the peak of their success during the Britpop era of the mid-1990s, will now go on a tour of festivals around the globe.
Their next date is at the Isle of Wight Festival, with other UK dates at Wireless, T in the Park and the Reading and Leeds events.
Related Internet Links
The BBC is not responsible for the content of external sites.