Three singers join X Factor judging panel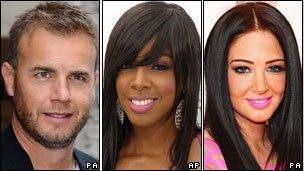 The X Factor judging panel has been confirmed as three singers and a pop-music impresario.
Pop mogul Louis Walsh is joined by Take That's Gary Barlow, singer Kelly Rowland and Tulisa Contostavlos of urban hip-hop band N-Dubz.
There was no return for Cheryl Cole, who was axed last week from the American version of the show.
Former judge Simon Cowell said: "These four are totally up for it, each of them bring a different attitude."
Cowell added: "They have had a ton of hits between them and they are all committed to finding a star.
"I have a feeling Louis and Tulisa will have slightly different points of view as to what the next star should look and sound like."
Barlow said: "I'm extremely excited about working on The X Factor. I've always been a fan of the show and always enjoyed performing on it too.
"My one goal is to find a global superstar. If I don't find one, I won't have done my job."
N-Dubz star Tulisa said she looked forward to bringing "something fresh" to the panel.
She added: "I'm not going to be afraid to speak my mind and mix things up a little.
"I am hoping to find some hot new talent and mentor a winning category. It is also going to be great to get to know and work alongside the other judges. Let the fireworks begin."
Rowland added that she was thrilled to be heading to one of her "favourite places in the world".
She said: "The music coming out of the UK right now is incredible, with artists like Adele, Jessie J and James Blake, so I'm confident this season of The X Factor will give me opportunity to hear a few diamonds in the rough.
"Being a judge is never easy but I promise to be as sternly honest as I can and also encourage everyone who crosses the stage. I can't wait to meet the world's next superstar."
Walsh said: "I'm delighted to be back for my eighth series of The X Factor, it's my favourite job in the world and I'm really excited this year to work with Gary Barlow and the rest of the new panel.
"I'm the last original judge standing and I'm determined to find an act that can win this year and show the others how it's done."
The first audition will be in Birmingham on Wednesday, then on to Glasgow, Manchester, Cardiff, London and Liverpool.
In Monday night's Britain's Got Talent programme, Newcastle-born hosts Anthony McPartlin and Declan Donnelly teased Simon Cowell over Cole's exit from the US version of The X Factor.
Rumours suggest part of the reason that Cole - who also hails from Newcastle - was axed due to her strong accent.
Donnelly asked Cowell whether he could understand his Geordie accent.
Cowell pretended not to understand, saying: "Am I missing something here? I've just got back, what's been going on?"