Hobbit movie names are announced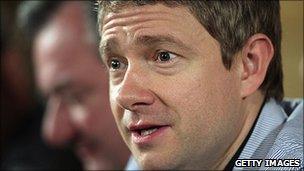 The names and release dates of Peter Jackson's two forthcoming films based on JRR Tolkien's The Hobbit have been announced.
The first film will be called The Hobbit: An Unexpected Journey and will be released in December next year.
The Hobbit: There and Back Again is scheduled to be out in December 2013.
Filming of both Lord of The Rings prequels in New Zealand faced a delay because of a row over actors' wages and Jackson being unwell.
In January the director was admitted to hospital with a perforated ulcer.
The movies, which will star Martin Freeman as Bilbo Baggins, were earlier stalled by problems including a wrangle over distribution rights and the exit of original director Guillermo del Toro.
Sir Ian McKellen and Elijah Wood will reprise their roles as Gandalf the Grey and Frodo respectively.
Sir Christopher Lee is among the stars who will also appear in the new movies, along with actor Andy Serkis in the role of Gollum.