Royal Court 'not all about box office' says director
By Tim Masters
Entertainment and arts correspondent, BBC News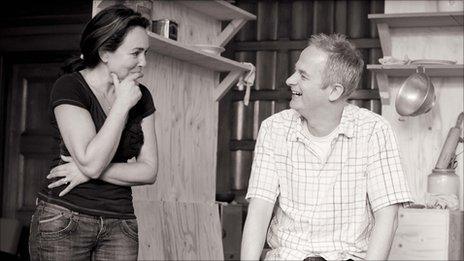 As the Royal Court prepares to stage Arnold Wesker's landmark play Chicken Soup with Barley for the first time in 50 years, its artistic director Dominic Cooke looks back on a year of success and the challenges ahead.
Dominic Cooke has reason to look happy. His production of racial satire Clybourne Park transferred to the West End earlier this year and hoovered up a clutch of major theatre awards.
Following its West End success last year, the Royal Court's smash hit play Jerusalem is now getting rave reviews on Broadway.
And the Court's young writers programme has nurtured award-winning new talent like Anya Reiss, whose second play The Acid Test opened last week.
"It does get to me," admits Cooke when we meet at a rehearsal space in East London.
"I can't deny the pressure of everyone saying, 'You've done really well - now what next?'
"I'm not saying you don't want success at the box office, but it's really about the evolution of writers," he continues.
"Sometimes writers need to produce work that isn't necessarily popular in order to evolve."
As Cooke points out, not everything he has touched during his five-year tenure at the Court has turned to gold.
Case in point: the reviews for his Wallace Shawn season in 2009.
"Clare Higgins in The Fever was one of the best things I've ever done, but it just didn't ignite the critics.
"[But] that's fine. I've been doing this long enough to be able to deal with that.
'Extraordinary life force'
"If you look back at the Court's history from Look Back in Anger through [to Edward Bond's] Saved [and] Sarah Kane's Blasted - often these plays aren't well received but they are breaking new ground.
"We never programme for success. We plan very conservatively just for shows to break even. That's really what the Court's about."
After the success of Clybourne Park, Cooke's next directing project is a revival of Arnold Wesker's seminal play Chicken Soup with Barley.
The drama - last staged at the Royal Court in 1960 - begins in 1936 and charts the collapse of political ideology alongside the disintegration of a family over two decades.
In a cast of 10, Samantha Spiro plays Sarah Kahn - an East End Jewish matriarch and a staunch communist.
"Sam Spiro is perfect for it," enthuses Cooke. "I've wanted to work with her for a long time.
"The main character is an extraordinary life force, and Sam has that."
The rehearsals are taking place near Whitechapel, just two streets away from where the play's opening scene is set.
"It's incredibly autobiographical to a degree that I've never encountered before," says Cooke of Wesker's drama.
"Although there's a bigger political idea, it's very much drawn from his family life."
Cooke re-read Chicken Soup three years ago after a young Court writer brought it into a workshop and was struck by its theme of political disillusionment.
"It really does resonate for our times," he says. "It's set in a very particular world that doesn't exist any more.
"But the bigger metaphor of what happens when you lose your political faith is very current."
With all this talk of lost faith in politicians, it is perhaps inevitable that the issue of arts funding comes up. Is this what worries him about the future?
" I can't believe we're here again," Cooke says, shaking his head. "We were here 20 years ago and we proved, with a little bit of investment, what the arts do for Britain."
He predicts that funding cuts will have a big impact at the Royal Court over the next few years.
"We're walking a financial tight-rope. We've always been massively under-funded. We produce roughly the same volume of shows as the National on a tenth of the subsidy."
He notes, however, that there is a "superbly entrepreneurial side" to the British arts world. Many arts organisations are "brilliant at raising money", he states.
Putting aside the politics and the finance, though, what was it that made Cooke fall in love with the theatre in the first place?
"It was coming to places like the Court in my teenage years, seeing some of Caryl Churchill's plays and [former artistic director] Max Stafford-Clark's productions.
"As a student at Warwick, I used to go to Stratford a lot and got very excited by the power of Shakespeare."
Compared to the film industry, Cooke says, theatres do not have to jump through financial hoops to get a production in front of an audience.
"In theatre, it's most exciting when a play dealing with something that's very contemporary comes in and you can say 'Yes' and get it on.
"It's great to be able to respond to the world as it's happening. It feels very alive."
Chicken Soup with Barley is at the Royal Court from 2 June to 9 July.
Related Internet Links
The BBC is not responsible for the content of external sites.