The Mechanic film advert banned from television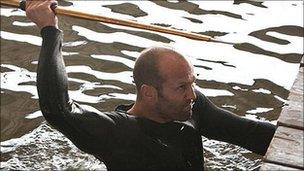 A film advert which featured a man's head exploding and was broadcast during teen show Glee has been banned by the advertising watchdog.
The Mechanic showed a "stream of violent imagery", the Advertising Standards Authority (ASA) said.
The advert for the 15-rated movie, starring Jason Statham, prompted 13 viewer complaints.
Film studio Lions Gate said it was unavoidable that sensitive members of the public would complain.
Some of the scenes that featured in the taster showed a man's leg being speared and another man being shot in the face through a window.
The ASA said although two versions of the advert were broadcast after the watershed, it was likely a large number of viewers under the age of 16 would have been watching Glee at the time.
"We considered that the ad was inappropriate for children and were therefore also concerned that a significant proportion of children had been exposed to the violent imagery," the organisation said.
The ASA ruled that both ads should be withdrawn from transmission completely.
Related Internet Links
The BBC is not responsible for the content of external sites.